Marrying the man who saved my life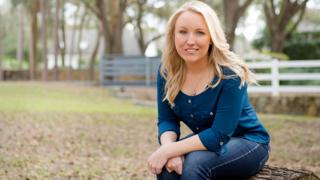 Melissa Dohme, from Florida, was 20 years old when she was stabbed more than 30 times and left for dead by her ex-boyfriend. Against all the odds she survived, though she thought she would never have another relationship. But then, as she describes here, she found love in an unexpected place.
Before the attack I was a college student working full-time in the reception of a local hospital. My dream was to become a nurse.
I was dating Robert Burton, who I had met in high school. We hung out all the time, texting and talking. He was very charming and funny and kind of like a gentle giant.
I noticed his behaviour changed, though, when I started applying to universities. He became very jealous. He would belittle me and not want me to succeed. He would lie about things and if I confronted him he had an explosive temper.
I tried to break up with him but he told me that, as his girlfriend, I should be helping him, not abandoning him. He said he would kill himself if I left him.
It escalated to physical abuse. One day in October 2011, I drove us home as he had been drinking. He said that I shut the door before he had finished speaking and that set him off. He started hitting and punching me. I was able to break free and run away to call the police, who arrived and arrested him. He was charged with domestic battery and sentenced to 10 hours in jail. I thought I was finally free of him.
Over the next couple of months he left me alone. I learned through social media that he had another girlfriend, so I really thought he was over me.
Then, on 24 January 2012, he called me at 2am. He had gone to court that morning for the battery charge and said he needed closure from our terrible relationship and just wanted a hug. If I saw him just one more time he said would leave me alone forever.
I didn't listen to my intuition telling me it was wrong, and that was the biggest mistake I ever made. I took my pepper spray and phone, thinking I could protect myself if I needed to.
---
Find out more
---
As soon as I walked out there he reached his arms out for a hug, but he had a switchblade in his hand. He flipped it open and he started stabbing me over and over again.
I remember the pain of the first few but after that I went into fight-or-flight mode. I tried to fight back and bite his hand. I was punching and screaming and doing everything I could, but I kept falling to the ground because I was losing so much blood.
A young boy and girl nearby ran over because they heard me screaming, and the girl called 911. After seeing them Robert went and got a bigger knife with a serrated blade from his truck and attacked me with that. He had every intention of killing me. He knew the police were going to come and he wanted to get it finished.
He left me lying in the road and I thought I was going to die. I just prayed to God to save me and give me a chance.
I was drifting away when a police officer shone his light on me. I felt a rush of life come back to me and I was able to state my name and who had attacked me. My speech was very slurred because I had had a stroke from the loss of blood.
My last few memories were in the ambulance. It was very bright and blurry and people were yelling and trying to stabilise me. They put the ventilator in to help me breathe and I knew that was a really bad sign. I thought, "OK, they think I'm about to die." They then said they needed to airlift me and they called for the helicopter.
I later learned from the trauma surgeons that I died on the table several times and they had to resuscitate me over and over.
My wounds were severe. I had a broken skull and jaw. My head and nose were fractured. He had severed my facial nerve, so I had paralysis on the right side of my face. They gave me 12 units of blood and the body holds about seven on average. It was a miracle I survived.
That time in hospital seemed like one very long day, but I was actually in intensive care for several days. At one point I remember motioning for a pen from my family. I needed to know what had happened to my attacker. I couldn't use my right hand because it had been stabbed so many times, so I used my left to write: "Dead, alive or jail?"
My family told me I didn't have to worry, that Robert had been caught and he was not going to harm me now. I felt very relieved.
He had attempted to kill himself by taking sleeping pills and crashing his car into a wall but he failed. He woke up in hospital strapped to the bed with the police by his side.
I faced a long road to recovery. Nineteen of the 32 stab wounds were to my head, neck and face so I didn't look like myself. I was missing teeth. My hair was shaved because they had to stitch up wounds on my head. Half of my face was paralysed.
When I looked in the mirror for the first time afterwards I just sobbed. I was only 20 years old. It was devastating. However, my faith was strong and I knew I wasn't still here on Earth to be mad about what I looked like. I just felt blessed that I was alive.
I had implants in my teeth and my scars slowly faded. I had nerve and muscle surgery in Boston, which helped regenerate my face and give me my smile back. I was keen to get back to school and work as soon as I could.
I assumed I would be single for the rest of my life. I never thought anyone would want to date me because I was damaged and had all this baggage. But I thought I could still use my experiences to help others. I wanted to speak out to let people in abusive relationships know that they deserved to be loved and respected and valued.At one of my speaking events in October 2012 I was delighted to meet the emergency services team who saved my life. One of the firefighters, Cameron, invited my mom and me to go to dinner at the fire department the following week. I was really excited about it.
Afterwards I couldn't stop thinking about Cameron. I knew that I had feelings for him but I was trying to ignore them. I wondered, "Am I feeling this way because he was one of the firemen who helped me?" But the more we talked the more we realised we had in common.
He gave me his number and said, "You know we're here for you," but I thought maybe he was just being nice. Still, I knew I had to see him again so a week later I contacted him and said I had a thank you card for the team. He said I should pop over to the station. I gave them the card and thought I would then leave, but Cameron and I ended up talking for six hours.
It felt like we could talk forever and that's when it became clear there was something special here.
We had different dates, we had a barbecue - we love barbecue in southern Florida - and we went to a shooting range. Cameron showed me how to improve my shooting and I now have a concealed-carry permit. It makes me feel better, that I can protect myself.
Cameron was by my side in August 2013 when I went to court to face the man who tried to kill me. When it was my turn on the stand Robert was staring at me. He was trying to intimidate me by staring me down but I refused to look away. At the end of the trial when all the evidence was being shown his head went down to the table. He finally had to face what he did and he realised he had no more power.
He was given life without parole and I was so relieved and thankful. I walked out of there with my life back.
Cameron and I continued dating. I went to St Petersburg College but decided not to study nursing - I wanted to dedicate my life to speaking out against domestic violence, so I studied Management and Organisational Leadership in Business.
A couple of years later I was invited to give the first pitch at a Tampa Bay Rays baseball game, in recognition of my work in schools talking about violent relationships.
I was on the mound and there wasn't a baseball there so Cameron came out of the dugout to hand me one. Written on the ball were the words: "Will you marry me?"
It was the most surprising moment of my whole life. And then he got down on one knee and asked me to marry him.
I couldn't speak for a moment as I couldn't find the words. It was just really incredible knowing that he put so much effort in and to making this surprise special for me. And I just I felt very blessed and over the moon. Of course I said yes.
He gave me a beautiful diamond ring that he had picked out and we're going to get married in a few weeks. All the people that saved me, from the first police officer on the scene to the trauma surgeon, are coming.Today I just feel very blessed to be here. I know that the attack was just one day in my life and it will never define me.
Photographs courtesy of Melissa Dohme
Join the conversation - find us on Facebook, Instagram, Snapchat and Twitter.