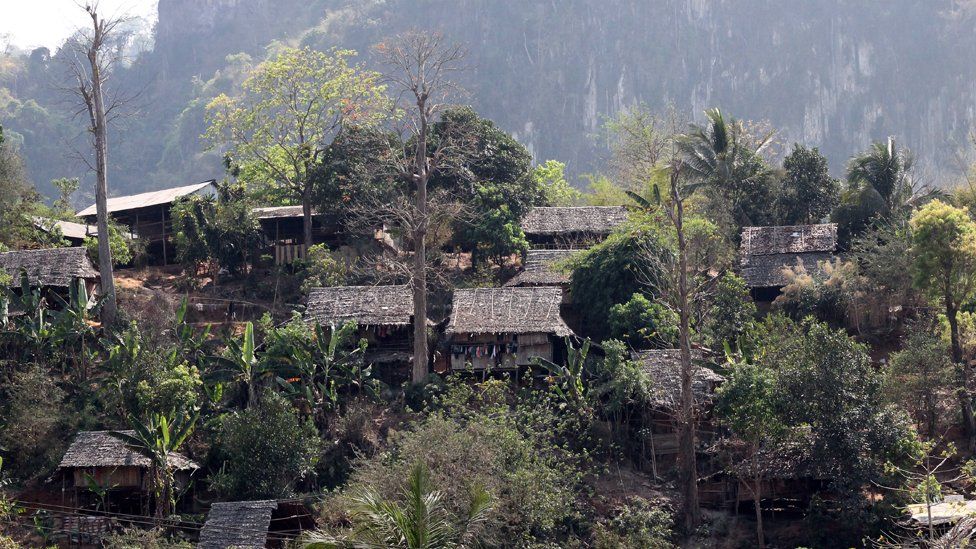 On Thailand's border with Myanmar, also known as Burma, more than 100,000 people live in a string of refugee camps. Many fled ethnic conflict in their homeland decades ago, and have brought up their children here. Gracia Fellmeth arrived in one of the camps a year ago to study depression in women before and after childbirth.
After an hour's bus journey through forest from the town of Mae Sot, Mae La appears suddenly, seemingly out of nowhere. In the morning mist, thousands of bamboo huts cling to steep limestone crags.
It is the largest of nine refugee camps along the Thai-Myanmar border, and home to almost 40,000 people. Many residents have spent their entire lives in this isolated place, unable to work and dependent on outside aid. The majority are Karen, one of Myanmar's largest ethnic minorities.
It is a Wednesday morning, three months after my arrival, and the dusty waiting room is full. Pregnant women wait patiently to be seen by nurses, midwives and medics.
They will have their bellies examined, their blood pressure monitored and their blood screened.
Since my arrival, women are also offered a depression screen - a series of 10 questions to look for symptoms of depression, which is common in pregnancy.
Our first patient today is 18-year-old Myo Myo. She is nine weeks pregnant. She enters the room, smiling. Lar Paw, a Karen counsellor and midwife I am working with, explains what the interview involves. Myo Myo agrees to take part. We sit down on the bamboo floor and begin.
"In the past month, have you ever felt sad or down for long periods of time?" I ask.
"Sometimes," Myo Myo replies. "We have some family problems. And not enough money."
Calm and composed, she continues her story - a story by now familiar to me. She describes a happy relationship with her husband. Despite his alcohol dependency, he is good to her, she says, and she loves him. They are both happy about the pregnancy. However, there are tensions with her mother-in-law, who disapproves of Myo Myo and rebukes her for not contributing to household expenditure.
I want to know more about her symptoms. She tells us that the episodes of sadness are short-lived, occurring only once or twice a month and lasting an hour or so.
"Do you ever think about hurting yourself, or about suicide?" I probe.
"Sometimes I think about it, if we have been arguing with my mother-in-law," she admits. She has never attempted suicide though, and assures us she is not planning to.
A quarter of all women we speak to think about suicide at least occasionally. A smaller proportion - about 3% - have made attempts. We lack the resources to follow up all of these patients, so we focus only on those with pronounced thoughts of suicide or severe symptoms of depression.
Myo Myo has other symptoms, too - low energy and "thinking too much" - but they occur only once in a while and do not seem to be out of the ordinary.
We don't arrange a follow-up but we tell her to come and talk to us any time, if she wants to share her worries with anyone.
Two days later I am on the bus to Mae La when a colleague asks me: "Did you hear about the suicide? A young girl. She was pregnant."
My heart pounds. Was it someone I had interviewed? Someone we had been following up? Or worse, someone we hadn't followed up?
Lar Paw stands outside the clinic waiting for me.
"Doctor! We have a suicide. Do you remember this patient?" She hands me a file. It is Myo Myo's.
I feel shaky. I remember her, and I remember that we had not considered her to be high-risk. Among the hundreds of women we had spoken to, Myo Myo, tragically, had not stood out.
"Her husband also. They did it together," Lar Paw continues softly.
A double suicide? I couldn't think straight. We had seen Myo Myo only two days ago. How could this have happened? Had we given her the idea of taking her own life? Was this all my fault?
Later that day we go to Myo Myo's home to pay our respects. The family sits quietly. The two bodies lie in the middle of the room under a sheet, surrounded by candles. Two cups wrapped in plastic are lined with a fluorescent blue liquid - remnants of the toxic weed-killer that led the couple to their death.
We sit in silence until Myo Myo's mother-in-law stumbles in, drunk.
Myo Myo's sister-in-law shouts at her. "This is all your fault," she sobs.
Later we find out about an altercation that had taken place earlier in the week between Myo Myo's husband and his mother, during which she had slapped him in the face.
The death of this young couple left us deeply saddened, but also troubled. Should we have done more to encourage Myo Myo to put aside her thoughts of suicide? Could we have stopped her?
Had it been the impulsive act of an adolescent in response to a family feud? Had a Buddhist belief in rebirth enticed the couple to leave this world and start a new, better, life together?
We will never know. What we do know is that suicide is too common in Mae La - last year it accounted for half of all deaths among pregnant women and new mothers.
What is the explanation? There could be many factors - including chronic uncertainty, hopelessness, boredom, and the legacy of the conflict that led these families to Mae La in the first place.
The names of the people in this story have been changed