Falling in love in wartime Iraq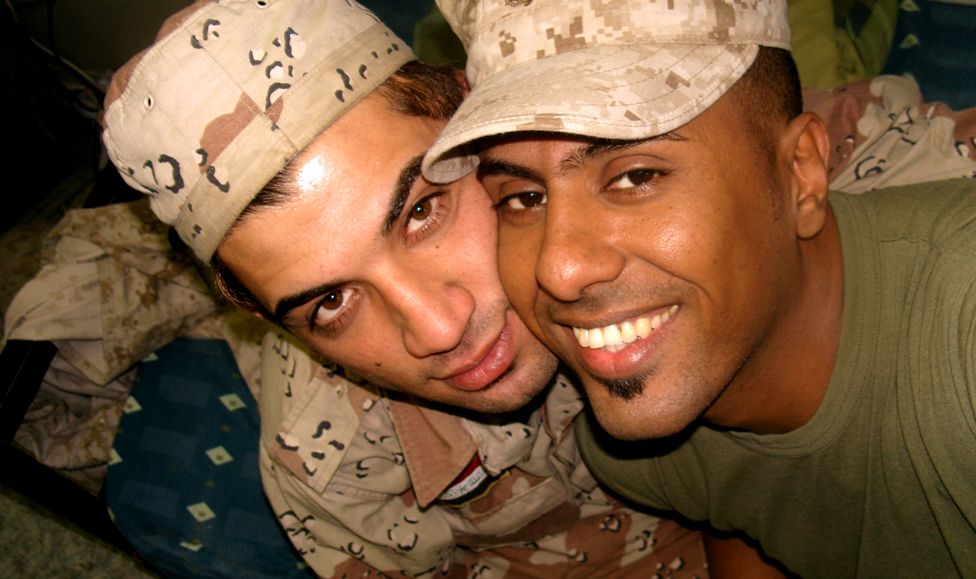 US Army interpreter Nayyef Hrebid and Iraqi soldier Btoo Allami fell in love at the height of the Iraq War. It was the start of a dangerous 12-year struggle to live together as a couple.
In 2003, Nayyef Hrebid found himself in the midst of the Iraq war. The fine art graduate had signed up to be a translator for the US Army after he couldn't find a job.
"I was based in Ramadi, which was the worst place at that time. We would go out on patrols and people would be killed by IEDs [roadside bombs] and snipers. I was asking myself: 'Why am I here? Why am I doing this?'"
However, a chance encounter with a soldier in the Iraqi army changed everything.
"One day I was sitting outside and this guy came out of the shower block. I saw his hair was shiny and very black and he was smiling. I just thought, 'Oh my god, this guy is really cute.'
"I felt like something beautiful had happened in this very bad place."
Hrebid was secretly gay. He hadn't come out because same-sex relationships are taboo in Iraq and gay people are at risk of violent attacks.
"In Iraq being gay is seen as very wrong and brings shame on your family. You can even get killed for it so you have to be very careful," he says.
What Hrebid didn't realise was that the soldier, Btoo Allami, was also attracted to him.
"I had this strange feeling like I had been looking for him. My feelings grew over time and I knew I wanted to talk to him," Allami says.
They had a chance to get to know each other when they took part in a mission to clear insurgents from the city's general hospital.
"After patrols we would come back to the safe house and one day Btoo invited me over to eat food and talk with him and the other soldiers," Hrebid says.
"We talked night after night and my feelings for him grew. "
Three days after the dinner, Hrebid and Allami found an excuse to go outside to talk on their own. They sat in a dark parking lot, full of US Humvees.
"I felt very close to Nayyef and I felt it was time for me to say something," Allami says.
"So I told him about my feelings and that I loved him. And then he kissed me and left. It was an amazing night. I didn't eat for two days afterwards."
The relationship swiftly developed and they spent an increasing amount of time together at the camp.
"On missions I'd try to be close to him, when I should have been with the Americans. We would walk together and we took some pictures together," Hrebid says.
Their American and Iraqi colleagues soon noticed.
"I was telling my American captain about Btoo and he helped bring him over to stay with me at the American camp for a few nights," says Hrebid.
"But some of the other soldiers stopped talking to me after they found out I was gay. One of my translator friends from my home city ended up hitting me with a big stick, which broke my arm."
In 2007, Hrebid and Allami were both deployed to Diwaniyah in southern Iraq. They were lucky to be in the same city but still had to keep their relationship secret. But in 2009, Hrebid applied for asylum in America, as his long involvement with the US Army made it too dangerous to stay.
"I thought I could go and then it would be easy to apply for Btoo to come afterwards," Hrebid says.
"I knew if we stayed in Iraq we had no future. We were going to end up married to women and hiding our whole lives. But I had watched the TV series Queer As Folk and I realised there were gay communities on the other side of the world."
Hrebid was granted asylum and settled in Seattle. However, his attempts to get a visa for Allami to join him were unsuccessful. Meanwhile, Allami's family had discovered he was gay and started putting pressure on him to marry a woman. With help from Hrebid's friend Michael Failla, a refugee activist, he escaped to Beirut.
"It wasn't an easy decision to make as I had a 25-year contract with the army," Allami says.
"Plus I was the only one supporting my family. But I knew I had to be with Nayyef."
Allami applied to the United Nations High Commissioner for Refugees (UNHCR) for resettlement but his tourist visa ran out before they resolved his case. As an illegal immigrant he had to steer clear of soldiers and checkpoints to avoid being sent back to Iraq.
"The waiting was hard," says Allami.
"I felt like I was stuck and not moving forward. But then I would speak to Nayyef and that always made me feel stronger."
They talked to each other on Skype every day.
"He would watch me cook breakfast and I would watch him cook dinner and we would talk as if we lived together," Hrebid says.
Although homosexuality is legal in Iraq, activists say many gay men, and some women, have died in targeted killings
The Islamic State group killed dozens of gay men between 2015 and 2016 - many were thrown to their deaths from high-rise buildings
Allami was interviewed by the UNHCR several times, but his application was beset with problems and delays.
Again Michael Failla provided support, flying twice to Beirut to advocate on Allami's behalf.
"I call him my godfather," Allami says.
But while awaiting the UNHCR decision Allami got an interview at the Canadian Embassy in Lebanon. With Failla's help he was able to fly to Vancouver in September 2013.
The couple were now living just a tantalising 140 miles (225 km) apart across the border.
"I came across every weekend to see Btoo and any day I had off work," Hrebid says.
The couple got married in Canada in 2014 on Valentine's Day. Hrebid then applied for a US visa for Allami as his husband. In February 2015 they were invited for an interview with US immigration in Montreal.
"It was a long flight, six or seven hours, and it was freezing - like 27 below zero," says Hrebid.
"The officer asked us three or four questions and after about 10 minutes she told Btoo: 'You've been approved to live as an immigrant in the United States.'
"I had to ask her to repeat it again. I put my hand over my mouth to stop myself screaming. We went outside and I was just crying and shaking. I could not believe it was finally happening. We were going to live together in the place where we wanted to live."
In March 2015, Hrebid and Allami travelled from Vancouver to Seattle by bus. They decided to have another wedding ceremony in the US and tied the knot in Washington State.
"We did not celebrate the first one and we wanted to have a dream wedding," says Hrebid.
"It was the most happy day of my life."
Today they live together in an apartment in Seattle. Hrebid, who now works as a home decor department manager is a US citizen. Allami has a green card and is due to become a citizen next year. He works as a building supervisor.
Their story has been turned in to a documentary called Out of Iraq, which premiered at the LA Film Festival last year.
"We do not have to hide. I can hold his hand when we walk down the street," Hrebid says.
Allami agrees. "It's so different for us now," he says.
"Before we were so hopeless but now we feel like a family. It's a gay-friendly city. I'm living the dream. I'm free."
Pictures courtesy of World of Wonder Productions