The town with the world's most romantic postmark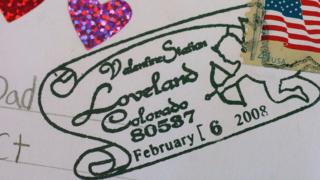 The town of Loveland, Colorado, in the lap of the white-tipped Rocky Mountains, is smitten with Valentine's Day, writes Andy Jones. Ask nicely and they'll even send you a card.
In the Loveland postal room, the thump-thump sound of ink stamp on pad serves as a drum beat to the crooning swoon of a barbershop quartet.
The singing foursome, suited in crisp pink and white, are cooing the melody of Let Me Be Your Sweetheart as a chorus of pensioners sift through piles of pink mail.
For two weeks every year, Loveland volunteers stamp and redecorate hundreds of thousands of letters from all corners of the globe, so that lovers can present the objects of their desires with letters postmarked in the land of love.
The missives come from as far away as China and the UK, and are forwarded to all kinds of famous addresses.
President Obama received one at the White House, Hugh Hefner has them posted to his girls at the Playboy Mansion. Even TV star Oprah Winfrey is a fan.
Local businesses feed breakfast to the volunteers. An Elvis lookalike comes in to sing to them, and the stampers - like silver-haired Valentine's elves - busy away in the workshop, karaoke-ing along to toe-tapping bluegrass classics.
Among all the free pie and coffee, the head of the re-mailing programme, Mindy McCloughan, gushes: "It's just like being at your grandma's house."
The Loveland re-mailing programme was born some 70 years ago, when a postmaster called Mr Ivers, a devoted philatelist, began re-addressing all mail "From The Sweetheart City."
Cupid's bow now sends some 300,000 pieces of mail in Loveland's direction, each one them to be stamped with a unique poem, always a step up from the tired old "Roses are Red, violets are blue."
This year's verse says:
From the Sweetheart City in a land of love,
Warm Thoughts of you are sent above.
On Wings they fly from land to sea,
Searching and finding the one to be.
Any broken hearts had better leave town for the week - Loveland's Valentines motto is: "Go heart or go home."
On its neat, square boulevards, corner stores play slushy music, cake shops bake everything pink and even hardware stores try to add a little romance to the drills and saws.
On Fourth Street, every lamp-post displays a heart-shaped sign bearing a lover's message.
There's a race to buy the best spot - some are sold off three months in advance - with the best pitches being those visible to all locals and drivers along the expressway to Estes Park.
You can almost picture a bitter sweetheart furious that her sign is three streets too far to the left.
Locals Nicole and Dominic Yost, who have been together for 13 years, always buy each other a heart. It's a treasure hunt finding them.
Nicole's says: "Dominic, you will always have my heart." In return, her husband's manfully boasts: "Nicole, I love you more than bacon."
It's OK, she says - just like everyone in this part of America, where ranchers still herd cattle, meat is a big deal for Dominic.
---
Find out more
From Our Own Correspondent has insight and analysis from BBC journalists, correspondents and writers from around the world
Listen on iPlayer, get the podcast or listen on the BBC World Service or on Radio 4 on Thursdays at 11:00 BST and Saturdays at 11:30 BST
---
On Valentine's night itself, as in every city, the occasion is an excuse to get drunk or get kissing. Couples queue up for Loveland Aleworks' specially brewed pink beer, or at Grimm Brothers for its sell-out Bleeding Heart brews.
An ice festival adds a macho tone - tattooed sculptors chainsaw naked ladies or Chinese Koi carp designs on to ice blocks. Rock bands crash out tunes to audiences perched on hay bales.
But the best seats in the house are in the postal room. The Loveland Chamber of Commerce even has a "stamp camp" so postal volunteers can learn the necessary wrist action to transfer ink to envelope.
There's a 70-person waiting list to take part and couples sit side-by-side stamping away, sealing far-off loves forever in ink.
I'm told the only way most volunteers give up their seats in the postal room scheme is when a coffin carries them out of there. Till death us do part - a lot like love itself, then.
Join the conversation - find us on Facebook, Instagram, Snapchat and Twitter.