Mama Yuli: The trans women's leader no-one messes with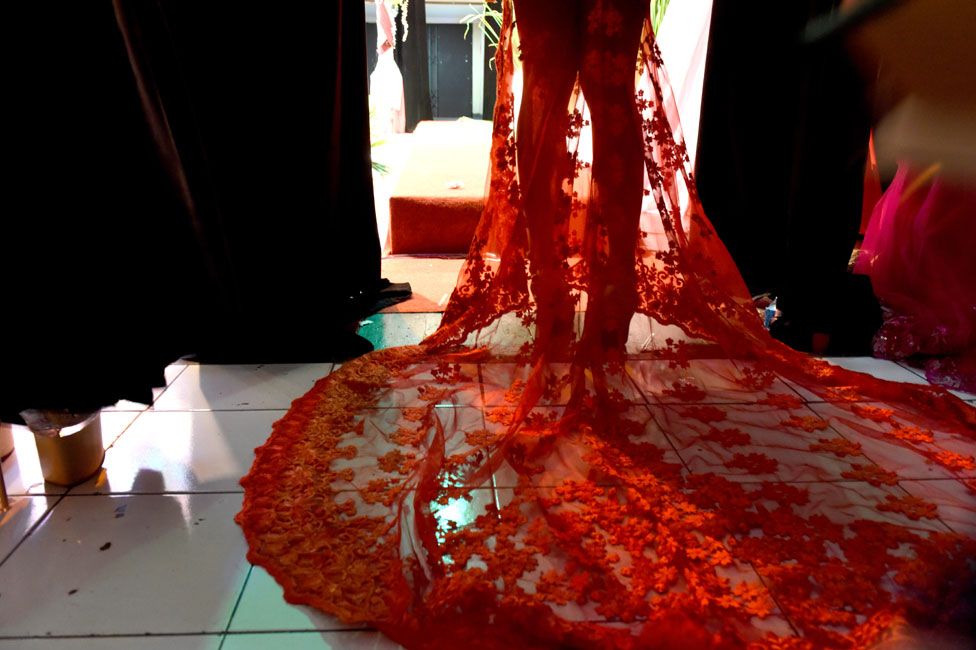 Mama Yuli is the leader and protector of Indonesia's transgender women - or Waria, as they are known. Though revered on some of Indonesia's thousands of islands, Waria are increasingly persecuted elsewhere, as a stricter type of Islam takes root. And this makes Mama Yuli's job a lot harder.
The second time I met Mama Yuli she told me she had killed someone once. Knifed him.
I scanned the heavily made-up face carefully, the eyes rimmed by fake eyelashes and bright red-painted lips, to see if she was teasing me. I decided she wasn't.
Years later she said there had been a misunderstanding - and that what she had meant was that she would do anything to protect her fellow prostitutes.
Mama Yuli - Yulianus Rettoblaut, to use her full name - grew up in a remote village on the island of Papua, in the east of Indonesia. It was a lonely place to be when, at the age of 11, she started to realise she wasn't straight.
"I started feeling attracted to men. I thought: 'What is this feeling; is it an illness?' There was no-one there who was transgender, or gay.
"It was not until I was 18 - when a friend at university who was also transgender took me to Jakarta - that I realised there was this whole other world that existed."
In the megacity of Jakarta she was not alone.
"I felt like a weight had been lifted from me. I saw that if we wear beautiful clothes and make-up you could easily attract guys," she says.
Waria are often lusted after - most work as prostitutes. Many are also rejected by their families, and as Indonesia embraces a stricter version of Islam, they are increasingly despised, or even attacked by vigilantes.
Mama Yuli takes me one night to a spot near a railway line to meet Irna, who is dressed in skin-tight clothes, showing off her cleavage. While gender reassignment surgery is far too expensive for most Waria, many save up and get simple breast operations.
Irna takes her customers to a small tent next to the tracks. The place reeks of urine.
"I have been stripped naked, beaten and my face slashed with a knife," she says. "And they chant 'Allahu Akbar' while they hit us."
Mama Yuli says she wasn't pretty enough to become a prostitute, so instead she became their protector. And it was while she was working with the prostitutes that she heard her parents had died. To this day she feels somehow responsible.
"They were so disappointed that I was wearing women's clothes that they died," she says. "It's as if I killed them."
From Our Own Correspondent has insight and analysis from BBC journalists, correspondents and writers from around the world
Listen on iPlayer, get the podcast or listen on the BBC World Service or on Radio 4 on Thursdays at 11:00 BST and Saturdays at 11:30 BST
When she went home for the funeral her brother, a policeman, put a gun to her head and threatened to kill her.
"He said I had shamed my family," she says. "They shaved off my long hair, but I managed to escape. I decided then that I needed to prove that I wasn't worthless."
She is now the first Waria to hold a master's degree in law and has set up Indonesia's first care home for elderly transgender people who have been disowned by their families.
And she runs the annual Miss Waria beauty pageants - which is the reason for a recent telephone call.
"We need you as a judge," Mama Yuli cries down the phone.
"You need to be one of the judges for Miss Waria Indonesia, Reeebeecca," she insists.
I am slightly apprehensive. But you don't mess with Mama Yuli.
For a few years the pageants took place out in the open, but recently they have been raided by the vigilantes, so this one is happening in secret.
Mama Yuli tells me firmly - many times - not to invite any local journalists along.
But it's not hard to find. "You here to see the beautiful Waria?" asks a street vendor who sees me staring at a map on my phone. "Over there, in that old school hall!" he tells me excitedly.
Number 10 from Papua, number nine from Sulawesi, number seven from Bali… The crowd goes wild as Waria from all over this diverse archipelago take to the stage in revealing sequined dresses. It's one of the few occasions when they can party so freely.
In ridiculously high heels, contestants strut down the catwalk in time to pumping techno beats. Backstage, hair and make-up artists have been working on them all day. It's a serious business and they look amazing.
On the judging panel with me are a gay TV heart-throb, a stunningly beautiful former Miss Waria Indonesia, a leading Waria human rights activist, and a man dressed in a white robe and Islamic prayer hat.
"Who is that man in the white robe?" I ask.
"She is a Waria from Sulawesi," Mama Yuli explains. "They are revered and respected as prayer leaders."
I try to take careful, fair notes as I watch the explosion of colour and bare skin. "Number seven - nice smile. I like the red shoes on number three. Cool that number one is wearing traditional dress." But it all becomes a blur.
After what seems like hours we are called into a side room. Decision time.
The gay heart-throb wants the most beautiful "female-looking Waria" to win. "He looks sooo like a woman," he gushes.
"If that's all we are looking for then go watch Miss Indonesia," snaps the activist.
We need someone to lead us.
It's starting to get heated when Mama Yuli's faithful assistant rushes over and hands us all a note. On it is her list of winners.
"What's this?" asks the TV star. "Mama Yuli has decided," is the reply. Any debate is over. No-one messes with Mama Yuli.
Recently her brother - the one who threatened to shoot her - visited her old people's home.
"Our family is very proud of you," he told her. "You are famous and doing good work."
As she tells me about it, the tears mess up her make-up.
Correction 19 May 2017: This story has been amended to include later clarification by Mama Yuli of her comment about having killed someone.