The Afghan restaurant run by domestic abuse survivors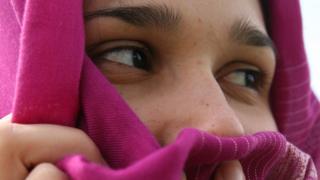 Afghanistan has been labelled one of the most dangerous places in the world to be a woman. One study suggested 87% of women in the country experience some form of domestic violence. Sodaba Haidare visited one place in the capital Kabul that offers hope to women escaping abuse.
Aryan's shift in the kitchen has come to an end. She removes her apron and hat. Glimpses of her personality are revealed - she's wearing a colourful tunic over her black jeans, and she he has a mole exactly between her eyebrows - as if someone planted it in the perfect position.
She places a glass of fresh lemon juice on the table sits down across from me. Aryan is strikingly beautiful and moves with confidence. Yet it's hard to believe we are the same age. She is 24 but has the look of a much older woman. It's because of the years of abuse she endured at the hands of her violent husband.
She was only 16 when her parents arranged her marriage to a man she'd never met. Soon after the wedding, her husband and mother-in-law started beating her. She stuck it out, hoping things would get better with time. But they got worse.
By the time she realised she was in an abusive relationship, she already had three children.
---
Find out more
From Our Own Correspondent has insight and analysis from BBC journalists, correspondents and writers from around the world
Listen on iPlayer, get the podcast or listen on the BBC World Service or on Radio 4 on Thursdays at 11:00 BST and Saturdays at 11:30 BST
---
One day, when Aryan's husband left for work, she examined the fresh bruises he'd left on her face, then packed her bags and took her children to the police station.
Women who suffer domestic abuse are usually turned away by Afghan police or persuaded to go back to their husbands for their family's honour. But Aryan thought her injuries would make the police take her seriously. And they did.
She was sent to a women's shelter, where she and her children lived ever since, with other women who have also escaped domestic violence. She often dreams of a future where she has her own place, where she can live without the fear of her ex-husband coming near her or her children.
The path to this dream becoming reality lies in the heart of Kabul. And it begins in a traditionally decorated Afghan restaurant called Bost.
Hope is at the heart of its mission. The place is run by survivors of domestic violence and here, women are celebrated as strong, independent human beings, not just victims. Bost is a base for eight women, of all ages. Working empowers them to write a new chapter in their lives.
It's a long and often difficult process. Still, it helps that every corner of this restaurant pays homage to powerful women. The place screams female empowerment.
Every wall is hung with pictures of women with unique stories.
There is Queen Soraya, the wife of King Amanullah, who dressed in European fashion and believed women should shed the veil, and that a man should only have one wife. She was also the minister of education, who opened the country's first school for girls in the 1920s.
Then there is the current first lady, Rula Ghani, a Christian-born Lebanese woman, who surprised Afghans by speaking out about women's rights.
There are also lesser-known faces, Afghan women who have been killed simply for doing their jobs. Lt Islam Bibi, for example - a young police officer who suffered death threats from her own brother and was then shot down by unknown gunmen on her way to work. Their stories are not forgotten.
Another wall pays homage to Afghanistan itself, with images of three different women in vibrant, traditional clothes. They symbolise each region of this fractured nation.
There's a small stage, decorated with a handmade Afghan rug. Here female performers sit and play the long-necked string instrument known as the Tambur - or even the guitar or violin. It's an unusual sight in Afghanistan's conservative society, where many believe music should be forbidden - never mind played by women.
Now a divorcee, Aryan has adored the three months that she's spent here. It has changed her.
She is no longer the insecure and scared woman she once was, who had to raise her arms in self-defence, who would cower at the slightest aggressive word. But her husband has left her with a lasting hatred of men. She thinks all men are abusive - but little by little that's changing too.
Here, every day she sees men come to the restaurant with their families - men who are kind and caring. And she sees something that she never experienced. Love.
Join the conversation - find us on Facebook, Instagram, Snapchat and Twitter.