The struggles of war babies fathered by black GIs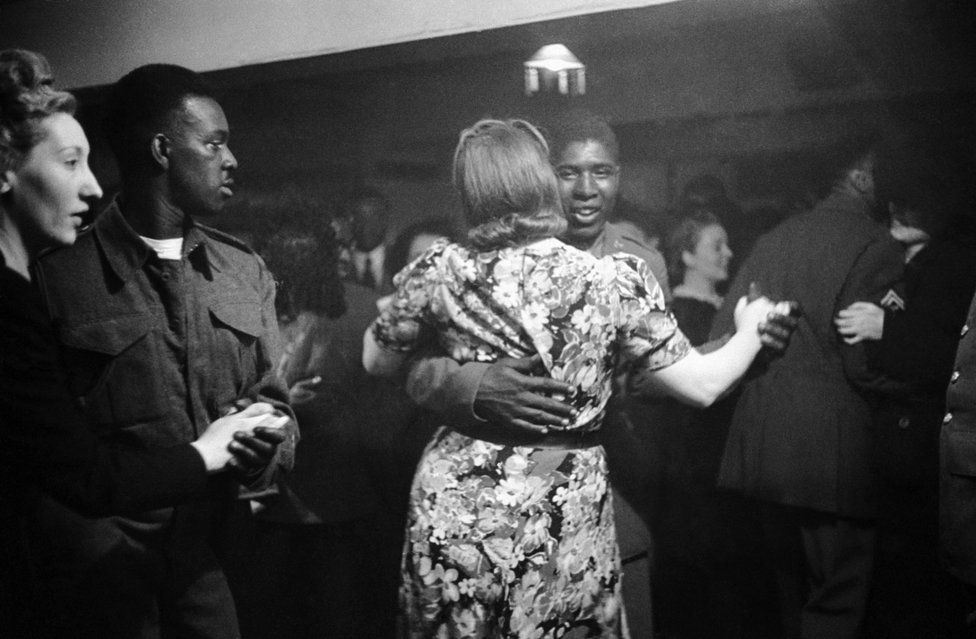 About 100,000 black GIs were stationed in the UK during the war. Inevitably there were love affairs, but US laws usually prevented black servicemen from marrying. So what happened to the children they fathered? Fiona Clampin met two such children in Dorset, now in their seventies, who have not given up hope of tracing their fathers.
A bottle of champagne has sat on a shelf in Carole Travers's wardrobe for the past 20 years. Wedged between boxes and covered with clothes, it'll be opened only when Carole finds her father. "There's an outside chance he might still be alive," she reflects. "I've got so many bits of information, but to know the real truth would mean the world to me - to know that I did belong to somebody."
The possibility of Carole tracking down her father becomes more and more remote by the day. Born towards the end of World War Two, Carole, now 72, was the result of a relationship between her white mother and a married African-American or mixed-race soldier stationed in Poole, in Dorset.
Whereas some "brown babies" (as the children of black GIs were known in the press) were put up for adoption, Carole's mother, Eleanor Reid, decided to keep her child. The only problem was, she was already married, with a daughter, to a Scot with pale skin and red hair.
"I had black hair and dark skin," says Carole. "Something obviously wasn't right."
The difference between Carole and her half-siblings only dawned on the young girl at the age of six, when she overheard her parents having an argument. "Does she know? Well, it's about time she did," said her stepfather, in Carole's retelling of the story. She remembers how her mother sat her down at the kitchen table and told Carole the truth about her background.
"I was chuffed I was different," she says. "I used to tell my friends, 'My dad's an America,' without really knowing what that meant."
In 1950s Dorset there were very few mixed-race or black children, and having one out of wedlock carried a huge stigma. Although Carole doesn't remember any specific racist remarks, she recalls the stares. Parents would shush their children when she and her family got on the bus.
Carole says her "blackness" was considered cute when she was a child, but as she grew up she became more aware of her difference. "I remember once being in a club and there was a comedian who started making jokes about black people. I'm stood there and I'm thinking: 'Everyone's looking at me,'" she says.
"I always felt inferior. As a teenager, I would stand back, I thought that nobody would ever want to know me because of my colour.
"I was going out with one boy, and his mother found out about me. She put a stop to it because she remarked that if we had kids, they would be 'coloured'."
Seventy-two-year-old John Stockley, another child of an African-American GI stationed further down the Dorset coast in Weymouth, does remember the racial abuse in striking detail.
John was called names to such an extent that at the age of seven he decided he would try to turn his skin pale to be like his classmates.
"I worked out that if I drank milk of magnesia [a laxative] and ate chalk I would make myself go white," he chuckles. "I think I drank over half the bottle! You can imagine the effect. It wasn't good and it tasted disgusting."
In one playground incident a boy insulted him with the N-word and called him "dirty", but when John thrashed him he found himself summoned to the school office.
"It was a winter's day in the early 1950s," John explains.
"I was playing football and I collided with another guy. By this time I was quite fiery, I wouldn't take it, and a blow was struck. I made his nose bleed. To this day I can see the blood on the snow.
"My mother lived less than 100 yards from the school, and she was summoned to the office with me. I remember her shaking next to me, holding my hand. The secretary told her what had happened and he said to my mother: 'You have to remember, Mrs Stockley, these people cannot be educated.' That puts my hackles up now."
Shocking though the racism seems to us today, it was arguably family life which had a more pernicious effect on these mixed-race children. "Your mum made a mistake," one of his aunts once told John Stockley.
"The 'mistake' is me," he says.
John's description of his childhood spent living with his grandparents in a village behind Chesil Beach sounds idyllic. But that's to ignore the reason why he went there in the first place. Determined to punish his wife for her double transgression, John's stepfather did not allow him to live in the family home except from Monday to Friday during school term.
Even then, John was not permitted to enter the house by the front door. At weekends he was packed off to his maternal grandparents, who provided him with the stable and loving family life he craved - and a refuge from his stepfather.
"Of course, coming back from the war and finding his wife with a black child must have been a great shock," John acknowledges.
"And they never had any children together. But there was no love at all for him from me, because of what he did to my mother. She was effectively kept in a position of restraint, and I'd see her go through depression because she wanted to do things she couldn't."
John says his stepfather - a gambler and philanderer - exercised control over his mother despite the fact that she ran a successful guesthouse. He decided who John's mother could or could not be friends with, John says.
"And he didn't like us to be too close. If some music came on the radio when he wasn't there, I would dance with her because she loved to jitterbug. But not when he was around. We were told to stop."
Carole Travers's stepfather began divorce proceedings when he found out what his wife had done in his absence. However, when it appeared that he wouldn't get custody of their daughter (Carole's half-sister), he returned to the family home and Carole took his surname.
He appeared to accept Carole on the surface, but towards the end of his life he telephoned her and dropped a bombshell. He wouldn't be leaving her anything in his will, he told her, "because you're nothing to do with me".
"The money didn't matter," says Carole. "But what he said really hurt me. I told him, 'You're my dad, you've always been my dad, and you're the only dad I've ever known'."
Married and with children of her own by this time, Carole started trying to trace her biological father, based on the scraps of information her mother had given her in the weeks before she died. "It just didn't occur to me to ask questions when I was younger," she says, the tone of regret in her voice clear.
"My stepfather would always bring me up in any argument with my mother, referring to me as 'your bastard', and I learned not to rock the boat. I just got on with my life."
Not all GI babies were able to stay with their mothers. Dr Deborah Prior was born in 1945, to a widow in Somerset and a black American serviceman. Her mother was persuaded to give her up, and for five years Deborah lived in Holnicote House, a special home for mixed-race children. Deborah spoke to Woman's Hour along with Prof Lucy Bland, who is researching this under-reported chapter of social history.
Like Carole, John Stockley wanted to protect his mother by keeping quiet. "I could see it was going to upset her if I asked too many questions, and upset her was the last thing I was going to do," he says. He would take his chance occasionally, although his mother would always evade his enquiries. But John remembers with characteristic clarity the last time he brought up the subject of his real father.
"I remember her saying to me in the course of a minor argument between us: 'You don't know what I've been through because of you.'
"And I said to her: 'You don't know what I've been through because of you!' She went pale, and realised what she'd said and how she'd put her foot in it. But we never went any further than that. She just looked at me in a sad sort of way, and I said, 'Have I ever done anything to make you ashamed of me?' And she said no. And that was the last we ever spoke about it."
It was turning 70 that prompted John to start looking for information about his father, whereas Carole has spent almost half her life searching for a man she knows only as "Burt". Neither of them has many facts to go on - Carole believes her stepfather destroyed the only photos and letters that could have helped her identify Burt. But while their searches may come to nothing, they both take solace from the fact that their mothers loved them against all the odds, and that they were born of loving relationships, not one-night stands.
"My mother told me my father was the only man she ever really loved," says Carole. "And I've had Mum's friends say to me since her death: 'Don't ever feel ashamed of your background, because you were born out of love and your mum wanted you.' She knew he was going back to America and she wanted something of him, something to hold on to."
Related Internet Links
The BBC is not responsible for the content of external sites.