How women are changing champagne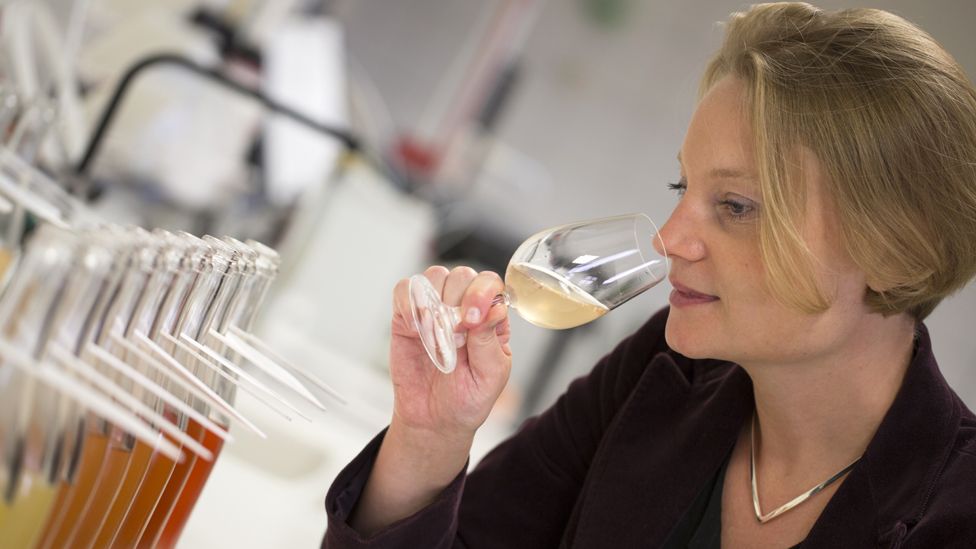 One of the most famous brands of champagne bears a woman's name, but for many years women played little role in the industry. Now that is changing. Juliet Rix met some of the new wave of female tastemakers.
I am sitting in a contemporary stripped-wood conservatory looking out at a much more traditional view.
Beyond a gentle slope, neatly striped with perfect vines, stands a fairytale French chateau, its decorative creamy façade topped with turrets and spires.
It was built by Widow Clicquot - Veuve Clicquot in French - a name more closely associated with famous champagne than with an actual woman.
But she was very real. In 1805, when she was just 27, her winemaker husband died. And, against all 19th Century expectations - and considerable opposition - the young widow took over his winemaking business.
Adapting and improving it, she spread its effervescent product across the globe, turning it into one of the most successful maisons de champagne.
Clicquot was the first female champagne producer. A few more followed. All were widows, the only women French society of the time would allow to take such a public role.
They did a remarkably good job. In fact the Champagne Widows were so successful that some champagne houses without a widow added Veuve to their labels nonetheless!
But this was not exactly a female takeover. It was just a handful of women there, as it were, "by accident". Most champagne production remained firmly in the hands of men. Until now.
Sitting with me at one of the conservatory's narrow, polished tree-trunk tables is Charlotte Le Gallais. Her great-great-grandfather - an Armenian diamond merchant - bought the turreted Clicquot chateau and the domaine surrounding it, nearly a century ago.
Five generations later, it is not the son, but the daughter, who is taking over the champagne-making. She is part of a new wave of women making significant inroads not only into selling but also growing and blending.
There are now three organisations specifically for women working in the business and 60% of the students studying winemaking in the Champagne region are female.
So does it make a difference if champagne is made by women? "Of course!" laughs Francoise Peretti, director of the UK Champagne Bureau, which promotes and educates about champagne: "[They] are more intuitive and more attentive to aroma and taste - and maybe more curious, more daring". Other leading women in the industry agree.
"Women are more aware of the delicate flavours of champagne," says Sophie Signolle, president of the Commission of Women Winemakers of Champagne. "Their nose and palate have more finesse, more subtlety."
One of the few female cellar-masters in a big champagne house, Floriane Eznack, says "there is love" between women and champagne.
"Champagne was first bought for the mistresses of the Kings of France - and even today, to seduce a woman, a man wouldn't buy red wine, he would buy champagne!" she says.
It must be said that Eznack is no bubbly girly type. Her first choice of career was fighter pilot. Only having failed to do that did she turn to making champagne.
Charlotte Le Gallais makes no claims to superiority over male champagne-makers, but as she shows me the shiny silver tanks that receive the juice pressed from her grapes, and carefully explains the details of the highly regulated production method, she does reveal that her favourite part of the process is the blending - the repeated mixing and tasting of wines from different grapes, soils and years to find just the right combination of flavours.
From Our Own Correspondent has insight and analysis from BBC journalists, correspondents and writers from around the world
Listen on iPlayer, get the podcast or listen on the BBC World Service or on Radio 4 on Thursdays at 11:00 BST and Saturdays at 11:30 BST
The rise of women winemakers will certainly change champagne, says Eznack, though exactly how is yet to be seen. Blends created today will not be on the market for another four or five years and the number of women involved is still rising.
Le Gallais points up at one of the towers of Clicquot's chateau. "That was her room," she says. It's empty now. The Le Gallais family moved out of the chateau during World War Two and now occupy the 16th Century manor house across the vineyard that the Clicquots used for the servants.
The manor house is unheated - hard on the people but perfect for the bottles of champagne laid in neat racks in the cellar.
Back in the warm conservatory, I raise a sparkling glass of Le Gallais' golden bubbly to my lips and have to agree that this woman makes excellent champagne.
Photographs by Juliet Rix unless otherwise specified