Usher cries in court during custody battle with ex-wife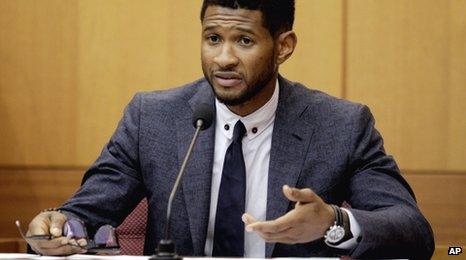 Usher broke down in court as he gave evidence during a legal battle with his ex-wife over custody of their two sons.
The 33-year-old told the judge that the mother of his children, Tameka Foster Raymond, had spat at his girlfriend and tried to fight her.
He also claimed that his ex-wife hit him during the row.
But he said he hadn't pressed charges because he "didn't want the boys to know that their father put their mother in jail".
The R&B singer, whose full name is Usher Raymond, appeared in the dock at a court in Atlanta, Georgia, on Tuesday (22 May).
He described how his ex-wife had confronted his girlfriend, Grace Miguel, as she sat in a car parked near to Foster's home.
"She continued to spit," he said. "At this point she pulled the door open, tried to swing at her."
Tameka Foster Raymond's attorney claimed that Usher provoked her and that his account was exaggerated.
The singer started to cry when the court was told he'd been partying and using drugs.
The two were married in 2007 and divorced two years later.
Tameka Foster Raymond has since fought for full custody of their two sons while Usher wants more visitation rights.