Mercury Prize 2013: Savages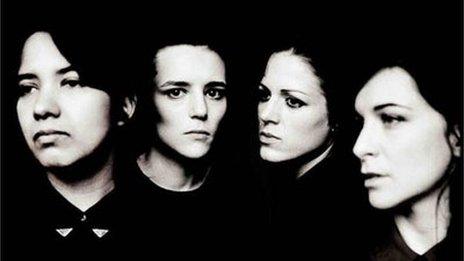 Savages are a post punk, all girl, four piece band based in London, who got together in 2011.
The name and the idea for the band came along before they even really started playing together.
As soon as they hit the live circuit, there was no other band causing such a stir in the music industry.
Their live shows are praised for their aggressive energy and reviving the punk era without being too nostalgic.
Savages are nominated for their debut album Silence Yourself which charted at number 19.
It was made in just three weeks in London's Fish Factory in December 2011.
They enlisted producers, Johnny Hostile and Rodaidh McDonald who've worked with The XX, Adele and The Horrors amongst others.
"Johnny Hostile has been with us since the beginning," explained guitarist Gemma Thompson.
"Together as a duo, they knew how we worked and could understand us and it was very easy to talk to them about what we wanted."
The band claim they want the album to be played loud and in the foreground.
"This is a record that is quite unlike all the others because it has a sort of in your face immediacy," Head judge Simon Frith told Newsbeat.
"It's obviously important they are an all woman group, they have certain things to say, what it means to be a woman particularly in the world of popular music.
"They are very intense, very aggressive, very sure of themselves," he continued.
"It's obviously referring back to punk and post punk music, not in a retro sense but more trying to capture one of the great eras in music.
"That notion of being absolutely determined people are going to listen to what they have to say."
Savages odds are around 10/1 with all main bookmakers, about 6th favourite to pick up the £20,000 cheque.
If they win, they will be the first all female outfit to take home the prize.
The winner will be announced on 30 October at a ceremony at London's Roundhouse venue.
Related Internet Links
The BBC is not responsible for the content of external sites.