Grimes defends performing in Russia after fan criticism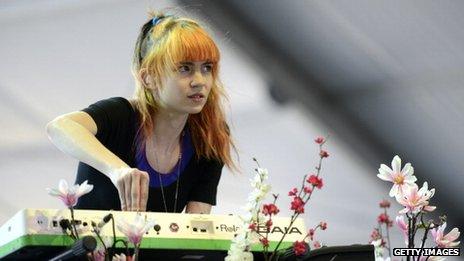 Grimes has defended performing at a private show in Moscow this week.
The Canadian electronic singer, whose real name is Claire Boucher, has been criticised by some fans for playing the gig because of Russia's political view on gay rights.
In a post on her Tumblr page Grimes, 25, said: "I do not feel bad about it. I don't think that denying and ignoring the gay community in Russia is cool.
"It doesn't hurt the government if I refuse to tour there," she added.
"I don't think it's wrong to be doing this. Refusing to go to Russia would only hurt fans."
Earlier this year, Russia passed a law imposing heavy fines for providing information about homosexuality to people under 18.
In August, Stephen Fry urged David Cameron to support moves to strip Russia of the 2014 Winter Olympics because of the new laws.
On a visit to Amsterdam in April, Russia's President Vladimir Putin defended the country's political outlook on homosexuality.
He said: "I want everyone to understand that in Russia there are no infringements on sexual minorities' rights.
"They're people, just like everyone else, and they enjoy full rights and freedoms."
Homosexuality was decriminalised in the country 20 years ago.
After reminding fans that her recent show was a private event, Grimes' statement added: "Fans should know that I'll be back for a bigger show when I finish the record that will be open to the public."
The singer's most recent album, Visions, was released in January last year.