Rob da Bank: New festival Leaf could be as big as Sonar
Interview by Sinead Garvan, words by Jimmy Blake
Newsbeat reporters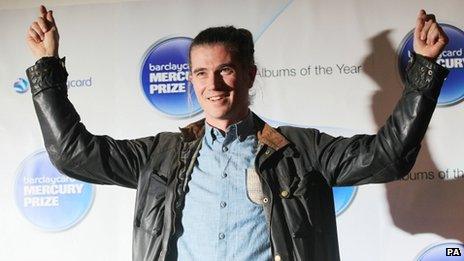 Rob da bank wants his new event, London Electronic Arts Festival (Leaf), to rival similar established events.
The Bestival organiser believes Leaf could challenge European electronic festivals like Sonar in Barcelona.
He said: "I'd love it to become as big as Sonar so when people are talking about London they think about the electronic music festival."
The first edition of the event runs between 7 and 10 November.
Rob da Bank says the city based event fills a gap in the UK festival market.
He told Newsbeat: "I've been going to electronic festivals around the world and it just seemed crazy that there wasn't one on London of a decent size. It's quite puzzling."
Da Bank acknowledges that there have been other attempts to launch a London based electronic festivals like Bloc but says Leaf is different.
"This is a winter, indoor, venue led festival and I don't see any reason why it shouldn't work."
Rob may have confidence in the festival but having organised Bestival for ten years, he says it's important to be thinking ahead.
"I see how these things grow. You have to put the work in in the first few years. It's definitely a long-term vision," he said.
The festival is being held in several locations around London and Rob says "getting around and seeing everything" will be the hardest part.
Tickets for Leaf events range in price, with people also having the option of buying day or weekend passes.
"We want everything to be full," says da Bank.
"This isn't a money making venture, this is to celebrate London nightlife."
The line-up includes Diplo, Duke Dumont, Le Youth and Major Lazer.
However, Rob da Bank says Leaf isn't just about more established artists with acts like Syrian musician Omar Souleyman on the bill.
"It's about breaking new blood as well. It's very diverse I'm really looking forward to all of it."
Leaf takes place across London between 7-10 November.
Related Internet Links
The BBC is not responsible for the content of external sites.