Rapper Dizzee Rascal criticises Radio 1 playlist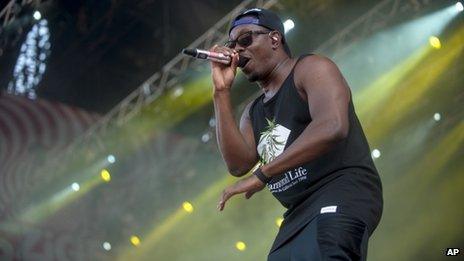 Dizzee Rascal has criticised Radio 1 over the way the station chooses what music to play, in a series of tweets.
The UK rapper says he is tired of trying to get his material on air without success.
Radio 1 is yet to playlist Dizzee Rascal's latest track, Love This Town, from his latest album The Fifth.
"Who ever does Radio 1 playlist... I'm tired of you... you better stop playing me. Make up your... minds!!!" he tweeted.
"I'm tired of putting up with... Radio 1! If anyone's got a problem let me know," he added in a series of comments (which Newsbeat has edited here due to language some people may find offensive).
The rapper also slammed Radio 1's Live Lounge, which usually involves an artist performing a cover version.
"If I gotta keep fighting to get my [songs] played why bother doing someone else's song so you can sell it," he tweeted.
The Live Lounge has produced a number of successful spin-off albums.
"Going against Radio 1 [isn't] smart but I'm tired holding it down," he added.
A spokesperson for Radio 1 said: "Radio 1 has given Dizzee huge support over the last decade, and whilst not every song can make the cut, we have playlisted three singles off his current album, so we were very disappointed and really surprised to read these comments."
Last year, Robbie Williams said he was "gutted" that his single Candy failed to make the Radio 1 playlist.