Commercial brands boosting the British music industry
By Sinead Garvan
Newsbeat music reporter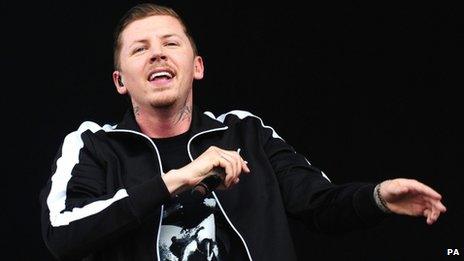 UK brands invested more than £100 million last year in the British music industry.
The figure was up by 6% compared with 2011, according to the latest figures from PRS for Music.
Professor Green, Avicii and Jay Z are just some of the big names to collaborate with brands.
The practice used to be seen as selling out to commercial interests by some in the music industry - but now it can be a key part of an artist's campaign.
Professor Green has been working with a leading energy drink producer for 18 months.
"[In] the music business, all you'll hear everyone talk about is how different things are," he says.
"There's not as much money in certain areas and really it's just trying to find ways to move things forward."
Professor Green says brands now offer interesting and creative ways of reaching fans that perhaps they wouldn't have been able to traditionally.
It works for the brand too, as Sam Grant, of Relentless, explains.
"Professor Green is very popular. He clearly has a huge following," he says.
"I can't remember his Twitter followers or Facebook but it's in the millions. The association has led more people to know about us."
Many record labels now have dedicated teams sorting out deals between artists and brands.
As Marc Robinson, of Universal Records, explains, it isn't just about getting money in.
"Everyone thought file-sharing was the death of the music industry but actually it has given us a whole new lease of life," he says.
"There are so many different platforms and ways to communicate music to get it heard.
"Working with brands sometimes brings platforms that we won't get through traditional media."
Dom Hodge works for a company called Frukt, an agency that helps find the right deals for artists and brands.
It carried out research with PRS for Music that found in 2012, UK brands invested more than £100m into British music.
He says that figure is rising each year.
"Over the last five or six years it has really exploded and particularly over the last 24 months," he says.
"Almost every artist in pop, and increasingly outside of that, is working with brands in some way."
Hodge thinks the landscape has changed and there's a need for different methods of funding the music industry.
"The traditional way artists have made money has changed," he says. "They need new income and brands can give them that income.
"But also I think artists are wanting to do interesting new things and brands can give them the money to try those things out."
Professor Green says that while it's more acceptable for artists to work with brands now, you still need to be careful.
"You can't be financially driven," he says.
"It becomes very obvious to people if you say yes to everything and you do things purely for the money despite not having any belief in what you're endorsing."
Related Internet Links
The BBC is not responsible for the content of external sites.