MTV Awards: The biggest headline grabbing moments
By Amelia Butterly
Newsbeat reporter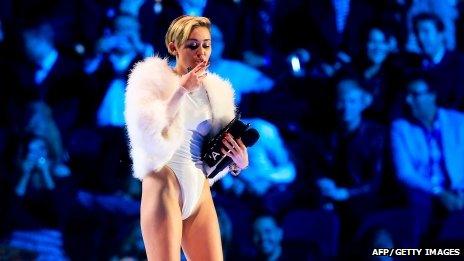 Miley Cyrus lit what appeared to be a cannabis joint on stage at the MTV EMAs in Amsterdam last night (11 November).
The singer was accepting her award for best video for Wrecking Ball.
She opened her bag, took out the rolled up cigarette and lit it in front of the crowd.
Over the years, stars at MTV awards ceremonies in Europe and the US have hit the headlines for their behaviour and on-stage stunts - here are some of them.
Back in August, Miley Cyrus made news with her MTV Video Music Awards performance alongside Robin Thicke.
The singer, in a provocative performance of Blurred Lines, dressed in nude-coloured underwear, wore a big foam finger and twerked.
She claimed she wanted to "make history" at the show in Brooklyn.
Lady Gaga, known for her outlandish outfits, has used the VMAs to show-off some of her most extreme costumes.
In 2009 she wore a dress which was created to make it look like she was bleeding, as well as a lace outfit which covered her face.
Two years later she performed as her male alter ego, Jo Calderone, while in 2010 she was dressed in a costume made entirely of meat.
Kanye West and Taylor Swift, VMAs 2009
As Taylor Swift accepted her award for best female video, Kanye West jumped on stage to interrupt her speech.
"Taylor, I'm really happy for you, and I'm gonna let you finish, but Beyonce had one of the best videos of all time," he said.
Beyonce, who won video of the year and two other awards for Single Ladies, later invited Swift back onto the stage to complete her acceptance speech.
In 2006 West also crashed stage, this time at the MTV European Music Awards, after Justice beat him to the best video award.
Madonna, Britney Spears and Christina Aguilera, VMAs 2003
While performing a medley of her hit, Like a Virgin, Madonna kissed Britney Spears and Christina Aguilera.
The set design mirrored that of her performance of the song in 1984 at the first ever MTV VMAs.
Eight years later, Lady Gaga, dressed as Jo Calderone, tried to kiss Spears while presenting her with an award. Spears responded: "I've already done that."
Eminem performed two songs at the ceremony in New York - The Real Slim Shady and The Way I Am.
He began his set outside of the Radio City Music Hall and was followed into the venue by 100 lookalikes all wearing white tops, baggy jeans and bleached blonde hair.
Related Internet Links
The BBC is not responsible for the content of external sites.