McFly and Busted combine to form one supergroup
By Chi Chi Izundu
Newsbeat entertainment reporter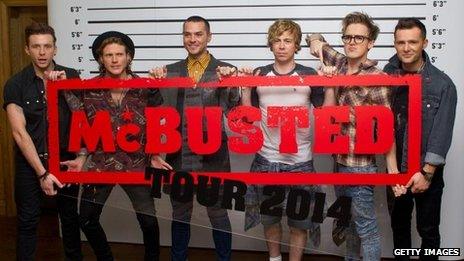 Boy bands McFly and Busted have joined forces to form an "ultimate" supergroup called McBusted.
The bands made the announcement at a special press conference on Monday and also announced they plan on going on a one-off tour next April.
The two groups said they were "very excited" about their future plans, which will include both acts' greatest hits.
Original Busted singer Charlie Simpson will not be involved in the tour.
He commented about the new band on Twitter, saying: "Just wanted to say that though I am not joining @mattjwillis and @JamesBourne on their new venture, I wish them all the very best with it!"
The supergroup made their first appearance after their announcement on the red carpet of the Hunger Games: Catching Fire premiere.
"We've got our first performance on Children In Need on Friday and we can't wait," Matt Willis said.
"It's all the big hits. All the big Busted hits, all the big McFly hits, but all six of us on one stage making all the music," he added.
McFly recently announced they would be releasing their sixth studio album early next year.
Harry Judd, the band's drummer, said: "The record's out next year in February, but we were just too excited to do this.
"Literally we were going to wait until the year after to do this, but we couldn't wait, we were too impatient. We wanted to do it now. Let's do it now. It's very exciting."
McFly's lead singer Tom Fletcher also said he was looking forward to becoming a dad.
Last month he and wife Giovanna revealed they are expecting their first child together.
"It's a human. I know that. I hope. We're not going to find out if its a boy or a girl, we're going to wait. We're going to have the surprise on the day."