DJs and singers to perform at London Eye concert
By Steve Holden
Newsbeat entertainment reporter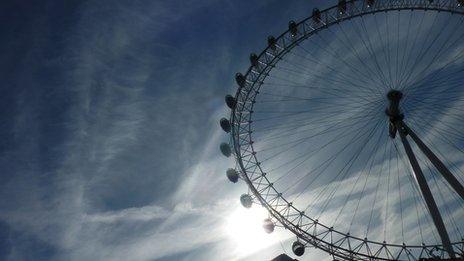 Organisers of a DJ gig are preparing to set a world first for the most live streams broadcast at the same time.
For the third year, the Red Bull Revolutions in Sound event is taking place on the London Eye.
Each pod on the tourist attraction will focus on a different club night in the UK, all of which will be broadcast at the same time online.
Lily Allen, Katy B and Rudimental are among the acts playing on the big wheel.
"It's the ultimate raver's subversive dream," said Torsten Schmidt, co-founder of the Red Bull Music Academy.
"We've got more than 100 artists, 160 crew, 5km of cabling, 60 cameras in the pods and one more on a helicopter over the Thames. And we're doing a silent disco at the base of the London Eye for 2,000 people."
Other DJs on the line-up include Julio Bashmore, CJ Beatz and Goldie.
Lily Allen will perform two songs, The Fear and new track Hard Out Here, as part of a collaboration with Seb Chew and Leo Greenslade.
She has a personal history with the DJs' club night.
"What's exciting is that not only are they [Seb and Leo] dear friends, but when I did my first ever gig, seven or eight years ago, it was with them at Yoyo," she said.
"They've always been big supporters and Seb came to me with this opportunity. It felt like something that could be really good, putting this track out to coincide with this event.
"It'll be the first gig I do going into this new record."
Related Internet Links
The BBC is not responsible for the content of external sites.