Lily Allen takes aim at sexualisation of music business
By Steve Holden
Newsbeat reporter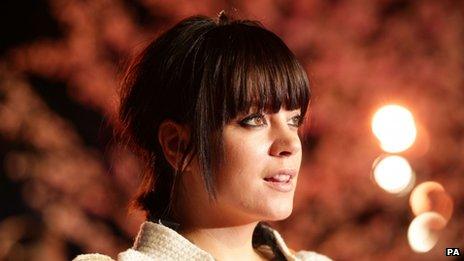 Lily Allen says her new track, Hard Out Here, sends a powerful message to women.
A video for the song debuted this week that appears to mock certain sexual aspects of the music industry.
"It is a song about life being perhaps a little bit more difficult for girls," she said. "It's particularly difficult for girls in this day and age."
It marks part of a comeback for the singer, who's been largely away from music since having two children.
"It [the song] is to do with a lot of stuff that's being talked about in the press actually, the sexualisation of children and the objectification of women in general," she added.
In one scene of the video, Allen is seen in an operating theatre apparently undergoing surgery.
A man in a grey suit, who looks like a music executive, says: "How could someone let themselves get like this? I suppose it's a lack of self-discipline."
Allen responds by saying, "Um. I've had two babies."
This week a campaign was launched by UK women's group Rosa to encourage young women to lobby the music industry and the government about videos they feel are being sexist.
Videos to songs such as Robin Thicke's Blurred Lines and Miley Cyrus' Wrecking Ball have attracted controversy this year.
Cyrus responded to criticism of her performances, telling Newsbeat she was a feminist.
Talking about Hard Out Here, Allen said: "You know [the song] it's done in a very 'me way' with a bit of a wink and a nod. It's a fun track but I think it's got quite a powerful message."
She's due to perform the track live for the first time on the London Eye on Thursday night.
The song is seen as a teaser for her new material which comes out next year.
"My kind of thinking about it was there's a bit of time between now and after Christmas when I'm going to be going to radio with my first proper single," she said.
"I felt this track was too important to let slip."
Lily Allen also features on a Christmas television advert singing a cover of Keane's Somewhere Only We Know.
The track is at number two in the Official Midweek Chart.