James Arthur quits Twitter after row and rap apology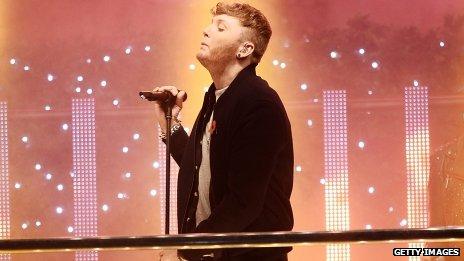 James Arthur has quit Twitter "for good".
Last year's X Factor winner tweeted: "#LOVE to my fans but I'm coming off twitter.
"HQ will be doing all my tweets from now on. PEACE!"
The decision follows a row with comedian Frankie Boyle on the site and comes days after the singer apologised following accusations of using homophobic lyrics in a rap.
The majority of the interaction between Arthur and the Scottish entertainer has been deleted.
Just before announcing he had quit the social network the singer tweeted: "Learnt a lot this year. Hurt a lot this year... Loved a lot this year. Lost a lot this year. Roll on 2014."
The singer said the track had been directed at rapper Micky Worthless during a rap battle, and that he had not meant to offend anyone.
The 25-year-old star posted he was "deeply deeply sorry to any gay or lesbian people out there".
The comedian Matt Lucas is one of many people to criticise the lyrics.
During a series of tweets the singer said he was extremely disappointed with himself.
He posted: "Some of the things said in this rap can be mistaken for homophobic slurs.
"I assure you homophobia is something I do not believe in."
The Nobody Til Somebody Loves You artist added: "I have many gay friends. In rap feuds/rap disses the words I use have different intent."
Matt Lucas has since accepted an online apology after James Arthur promised to remove the song from the internet.
The Little Britain star posted a reply saying: "Respect to you for responding and taking it down. Let's move on."
A spokesperson for the singer said there was no comment at the time.