James Arthur diagnosed with 'acute exhaustion'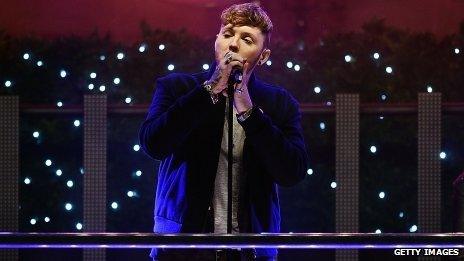 James Arthur has been diagnosed with "acute exhaustion" and cancelled all engagements while he recovers.
Following criticism, Arthur said he was "deeply sorry to any gay or lesbian people out there".
He also said he was "disappointed in myself for being so naive".
The X Factor winner said the song had been directed at rapper Micky Worthless, during a rap battle, and that he had not meant to offend anyone.
The representative's statement also said: "James would like to apologise to his fans for any disappointment caused to them by these cancellations."
Arthur, whose next single is called Recovery, has now been told to rest by medics.
Earlier this week, he was also involved in a row with fellow X Factor contestant Lucy Spraggan after she posted text messages online which he had sent to her.
Arthur has been involved in a number of rows with people via his Twitter account including Scottish comedian Frankie Boyle and claims to quit the social media site "for good".
The Impossible singer tweeted: "#LOVE to my fans but I'm coming off twitter.
During last year's X Factor Arthur had a health scare after suffering a panic attack.