Lostprophets 'angry' at former frontman Ian Watkins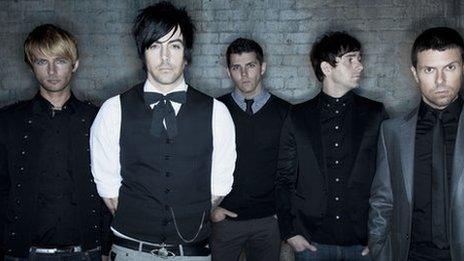 Lostprophets say they are "heartbroken, angry, and disgusted" after frontman Ian Watkins admitted child sex abuse.
The 36-year-old, from South Wales, will be sentenced later this month after pleading guilty to 11 sex offences.
Band members Lee Gaze, Luke Johnson, Mike Lewis, Jamie Oliver and Stuart Richardson said they did not know about the crimes.
Lostprophets split up in October after 15 years together.
In a statement posted on their Facebook page, the band said: "Earlier this week, we learned that the allegations of child sexual abuse against Ian were true, and that he would not be contesting them in court.
"Until then, we found them extremely difficult to believe and had hoped it was all a mistake. Sadly, the true extent of his appalling behaviour is now impossible to deny."
The group has sold more than three million albums around the world and was co-founded by Ian Watkins, Mike Lewis, Mike Chiplin and Lee Gaze in 1997.
In the online post, the band said Watkins was "a difficult character".
"Our personal relationships with him (Ian Watkins) had deteriorated in recent years to a point that working together was a constant, miserable challenge.
"We are heartbroken, angry, and disgusted at what has been revealed."
They also urged other victims to come forward: "Our hearts go out to Ian's family, the fans and friends he betrayed, and most importantly, the victims of his crimes and others like them.
"We would urge any other victims to contact the authorities."