Haim and The 1975 confirm Ibiza and Mallorca Rocks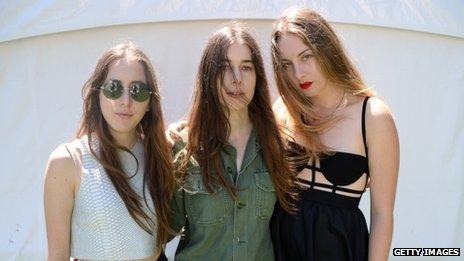 Haim and The 1975 are the first names confirmed for Ibiza and Mallorca Rocks 2014.
The Californian trio of sisters will open the summer of Balearic shows on 3 June in Mallorca.
They follow on from acts like Biffy Clyro, Ed Sheeran and Jake Bugg, who have kicked off the festival in previous years.
Haim and The 1975 are arguably the two biggest breakthrough guitar bands of 2013.
While Manchester indie-pop rockers The 1975 have holidayed on the White Isle before, it is the first time they have played there.
"We're big fans of Ibiza, a lot of our friends ended up living out there, moving out after we all had such a good time," frontman Matt Healy said.
"We're big fans of house music, the production of it and getting into it."
However, their memories of holidays in the sunshine are a bit hazy.
"I can't really remember what happened apart from we all hated each other because we hadn't been to sleep for about a week," he said.
They will be playing in the height of summer, but that is not worrying Healy.
"If you go to some of the smaller clubs we've been playing in, Prague and Vienna recently, it doesn't get much hotter than that," he said.
"We embrace the hot weather, we're from Manchester, if anyone complains about the heat you get flack."
More acts will be announced for the line-up in the new year.
Mallorca Rocks begins on 3 June and Ibiza Rocks on 4 June.