UK single sales reach 15-year high with Passenger track
By Emma Brant
Newsbeat reporter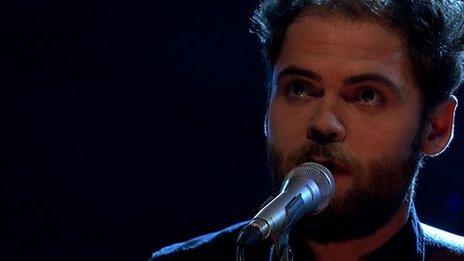 A track by British solo artist Passenger has become the fourth single of 2013 to sell more than one million copies.
The folk-rock singer's song Let Her Go takes the amount of number one single sales to the highest level for 15 years, according to the Official Charts Company.
The last time four singles sold more than a million copies each was in 1998.
Passenger's track is the 141st single in the UK to hit the one million mark.
Let Her Go caps a run of singles successes in 2013.
In June, Daft Punk's Get Lucky became the first track of the year to sell a million copies, doing so 11 weeks after its release.
It was followed three weeks later by Robin Thicke's Blurred Lines, which reached the landmark in eight weeks.
The Swedish DJ and producer Avicii was next to join the list, the millionth sale of his Wake Me Up taking place in the first week of October.
Let Her Go has been number one in 16 countries so far.
On reaching the one million sales mark, Passenger singer Mike Rosenberg said: "It feels wonderful but completely ridiculous if I'm honest.
"For the last five years I've been busking and playing tiny gigs in pubs, so for one of my songs to suddenly get so popular is not only a dream come true, but also a huge surprise."
Passenger formed in 2003 as a group but broke up in 2009, leaving Michael Rosenberg the last and only remaining member.
The 29-year-old from Brighton has released three solo albums under his solo stage name, the latest being All The Little Lights released in February 2012.
The last time four singles sold more than a million copies was in 1998, when Cher's Believe topped the year-end chart.
There were also one million sellers for Celine Dion's My Heart Will Go On, Run DMC vs Jason Nevins' It's Like That and Boyzone's No Matter What.
Martin Talbot, Chief Executive of the Official Charts Company, said: "Congratulations to Passenger and his label Nettwerk on scoring only the third independent million selling single this Millennium.
"Let Her Go is not only one of the singles of the year, it is one of the classics of the digital era - as this achievement underlines."
Related Internet Links
The BBC is not responsible for the content of external sites.