Stars name their favourite songs released this year
By Nesta McGregor
Newsbeat entertainment reporter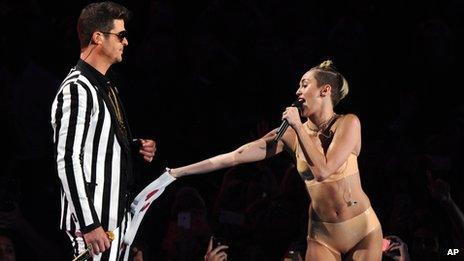 In a year which saw a record number of singles sold in the UK, musicians have been telling Newsbeat their personal favourite songs of 2013.
Four singles achieved one million sales in the last 12 months according to the Official Charts Company.
Daft Punk's Get Lucky became the first track of the year to sell a million, doing so 11 weeks after its release.
Robin Thicke's Blurred Lines, Avicii's Wake Me Up and Passenger's Let Her Go also passed the milestone.
The last time four tracks sold more than a million copies each was in 1998.
Jesy Nelson from Little Mix said the biggest track of the year belonged to American singer Jason Derulo.
"Talk Dirty, I just love the beat. I think it was such a good comeback song," she said.
"He hadn't been around for a while. He came back smashed it and went straight to number one," she said.
2013 Brit Critics' Choice winner Tom Odell praised New Zealand teenager Lorde for her lyrics.
He said: "If there's someone talking about the general feeling about what's going on in the world, then it's her.
"She's just so observant. And she's so young I can't wait to see where she goes with it. She's definitely my favourite new artist in the last few years."
Mollie King from The Saturdays told Newsbeat it had been a great year for Miley Cyrus.
"I love Wrecking Ball. I just think she sings it with so much passion," she said.
According to Jordan Stephens from Rizzle Kicks, 23-year-old John Newman is responsible for the monster song of the past 12 months.
"It's got to be Love Me Again. Just because I was in a traffic jam and this white van pulled up and it had three guys in it," he explained.
"And they were just going, 'I need to know now', at the top of their lungs. That to me epitomises a brilliant British single."
Follow @BBCNewsbeat on Twitter and let us know your favourite track of the year.
Related Internet Links
The BBC is not responsible for the content of external sites.