Sam Smith 'overwhelmed' to be Brits Critics' Choice
Interview by Rick Kelsey, words by Jimmy Blake
Newsbeat reporters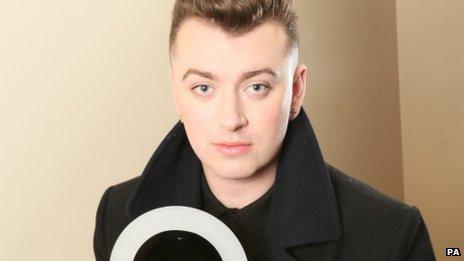 Singer Sam Smith says he is "completely overwhelmed" to be named the Brits Critics' Choice award winner for 2013.
The singer, who features on Naughty Boy's La La La, said: "I was working in a bar a year ago and I was watching the Brits at home.
"I've just told my mum and dad and they've cried on the phone. It's a good day," he added.
The 21-year-old beat Ella Eyre and Chloe Howl to pick up the prize.
Adele and Emeli Sande have previously won the title which aims to find the future of British recording talent.
"It's just been a bit of a crazy journey," said the singer who has had nine managers in his career.
Smith moved to London when he was 18 and worked in a bar for about two years before his singing started to get recognised.
He had sessions with Disclosure and Naughty Boy which both resulted in top 20 singles with La La La and Latch.
"It has just been so rapid, so quick. I'm trying to make as many time outs as I can to sit back with family and friends to celebrate each moment because it could all end tomorrow," he added.
The singer said he didn't want to be known as a solo artist but added that he doesn't feel too much pressure after being given the award.
"I think I would feel pressure if I didn't have a belief my music. I've been very brutally honest in the lyrics, in the songs, in the music. I'm proud of what I'm putting out.
"It's like what parents and teachers tell you in school. If you go into an exam knowing you've tried everything you've done and you still don't get a good grade you can't feel that bad because you've tried your best," he said.
Sam said his last shift in a bar was in January and that the venue had closed since he stopped working there.
The Brits critics' choice award was won by Tom Odell in 2012 who has gone on to have a number one album with his debut record Long Way Down.
Sam Smith will up his prize at the Brit nominations, hosted by Radio 1 Breakfast Show host Nick Grimshaw, at ITV Studios on 9 January.
The annual award ceremony takes place at London's O2 Arena on 19 February, with Katy Perry and Arctic Monkeys confirmed to play on the night.