Ed Sheeran: I fell in and out of love with my new album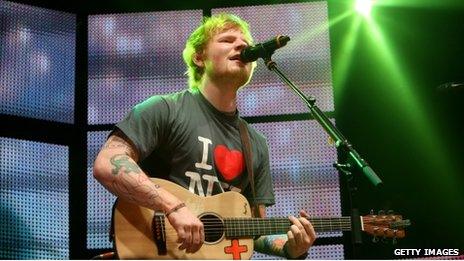 Ed Sheeran says he's had mixed feelings over his new album.
The unnamed record has been produced by Rick Rubin, who has worked with the likes of Kanye West, Jay Z and Red Hot Chili Peppers.
Speaking to Radio 1's Zane Lowe, the singer said: "It was one of these things that I fell in and out of love with.
"He (Rubin) re-energized me to be excited about the album again."
He added: "[It was] coming at the songs from a different direction and making sure they had the live vibe as well as the actual song craft."
The follow-up to Sheeran's debut album + is expected to be released later this year.
Sheeran's first album went to number one in the Official Album Chart and number five in the American Billboard 200 chart.
The British singer has been based in America over the last 12 months and says spending time away from home will help his second album be more successful in the UK.
"I think if I'd have come back with a second record instantly, there wouldn't have been any excitement," he said.
"Although it was important to give myself a break I think it was also important to give the public a break as well."
During his time in the US, Sheeran supported Taylor Swift on her Red tour and played three headline shows at Madison Square Garden in New York.
"I had to put down the ground work there that I put down in England as well and it gave me time to really write a good second record."
He recently tweeted about adding the final tracks to the new album and wrote: "I'm so excited to put this album out. So excited."
Earlier this week, the singer announced a UK arena tour for October this year.