Does the BBC Sound of mean success and help careers?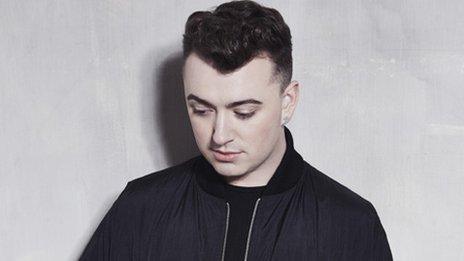 Sam Smith has been announced as the winner of the BBC's Sound of 2014.
The 21-year-old from Hertfordshire follows in the footsteps of Ellie Goulding, Adele and Jessie J who have topped the list in previous years.
The BBC Sound of list is compiled each year from votes by 170 people who work in the music industry.
Speaking on the Radio 1 Breakfast show, the singer said: "I'm just going to try and be as busy as possible."
He added: "I've had so many years of working really bad, bad jobs that I really just want to live every single moment and work as hard as I possibly can because it could all end."
Smith moved to London when he was 18 and worked in a bar for about two years before his singing started to get recognised.
He had sessions with Disclosure and Naughty Boy which both resulted in top 20 singles with La La La and Latch.
Since the list started in 2003, it has always created a buzz around the artists featured.
"I think for us it was kind of crazy that we got it," said Este Haim from Californian trio Haim, who topped the list in 2013.
"After we found out, we were in the midst of figuring out our debut record.
"I think for us it was like, 'Alright guys we've got to put the nose to grindstone, we've really got to put out this record'."
It started a huge year for Haim with their debut record going to number one in the Official Album Chart.
But would this success have happened without them making the list?
James Passmore is from Pluggedin PR, which promotes the band on UK radio stations.
"It definitely had a big impact in terms of raising their profile," he said.
"I think ultimately their songs, their personality, their live ability is what made them successful.
"But I think it accelerated how quickly they were in everyone's attention."
He has represented numerous artists that have made the Sound of list and says it is an important part of their campaign when promoting a new act.
"It's priceless promotion because people pick up on the list, whether they are slating the list or thinking it's good," he explained.
"Any press is good press in that situation when you are trying to get a band's name out there and it's such early days for a band."
He also says you don't have to top the list to reap the benefits.
Tom Odell agrees. He made the long list of 15 artists in 2013.
"It is very difficult as a new artist to get heard," he said.
"They [the list] really raise the profile of these artists and it means people really pay attention to them.
"Having gone through it and being stood here I think it is a really positive thing."
The Sound of list isn't the only list around. MTV and the Brits also make predictions and they are are often similar.
Critics in the music press argue it's a self-fulfilling prophecy, people in the industry all agreeing on who will be big in the coming year and therefore they do.
BBC Radio 1 DJ Huw Stephens is one of the 200 people who helped compile the Sound of 2014 list.
He does not agree and says whoever ends up on the list must have the music to back up the hype.
"I think people have got their own taste and own ears and can make their own mind up," he told Newsbeat.
"People aren't stupid, just because someone is putting money behind it, doesn't mean it is good and people know that."
There are more artists on the lists with successful careers such as Foals and Vampire Weekend than those who've disappeared like Gemma Fox and Joe Lean and the Jing Jang Jong.
Seven out of the 11 winners have had number one albums and the rest have made the top 10.
Stephens says there are plenty of artists who never made the lists and have had successful careers.
"Every year there is a whole bunch of artists who break through who haven't been on any of these lists," he explained.
"They break through and make a real impact like Clean Bandit and The 1975."