Rapper Young Jeezy is arrested after turning himself in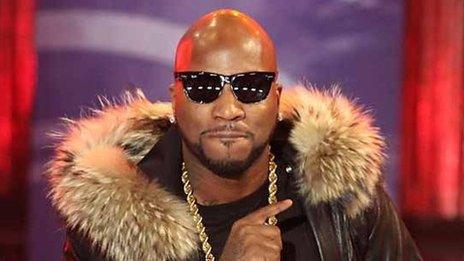 American rapper Young Jeezy has been arrested.
Officials say the artist from Atlanta turned himself in after he was charged with making terrorist threats, false imprisonment and battery.
According to jail records, the 36-year-old rapper has been released on $45,000 (£27,400) bail.
Details of the allegations, including when they were made and who they were made by, have not been confirmed.
One of the rapper's representatives said he did not have details of the allegations and had no comment.
The rapper, whose real name is Jay Wayne Jenkins, is scheduled to appear in court on 29 January for a plea and hearing.
Young Jeezy has appeared on three top 10 songs which made it into the Official Singles Chart including Usher's Love In This Club, which went to number one in the US.
The four-time Grammy-nominated rapper released his fourth studio album, TM:103 Hustlerz Ambition, in 2011.
It features Jay Z, Andre 3000, Ne-Yo and Snoop Dogg among others.
A remix of his single RIP featured in Diplo's end of 2013 mix on Radio 1.