Mike Skinner sparks feud with The Voice hopeful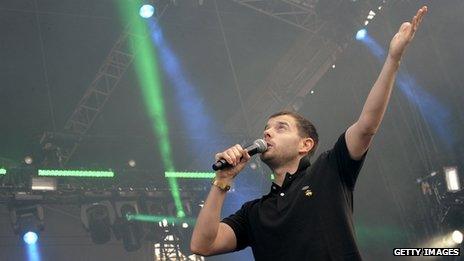 A contestant on The Voice has hit back at Mike Skinner who accused him of never being in The Streets.
Leo Ihenacho appeared on the TV talent show on Saturday and said he was a former member of the hip hop and UK garage act.
He appeared on the 2004 track Dry Your Eyes and appeared at The Brits alongside Mike Skinner.
"In my early twenties I joined a band called The Streets, such an exciting fun time," Ihenacho said on The Voice.
"I left the band, I just felt that I was the sidekick of The Streets. I don't want to be Robin anymore, I want to be Batman."
After the show, Mike Skinner denied the hopeful was a member of the group.
"Leo the lion wasn't in the streets," he wrote on his blog.
"He was a session singer on a few album tracks. he also sang on tour for a bit. he wasn't part of any songwriting."
Ihenacho was quick to hit back at Skinner, using a series of tweets to express his anger.
"YOU ARE A TOTAL DISGRACE..!!" one post read, he also accused Skinner of being egotistical.
"Explain to the fans why we haven't spoken for years... You refuse to be happy for me.. After all these years... You gonna post that..!!!!!" another post read.
"It's just incredible how some people can never ever want others to succeed," was the last tweet on the subject.
Ihenacho then apologised to his fans for his outburst and thanked them for their support.
Related Internet Links
The BBC is not responsible for the content of external sites.