Brit Awards 2014 becomes most tweeted about UK TV show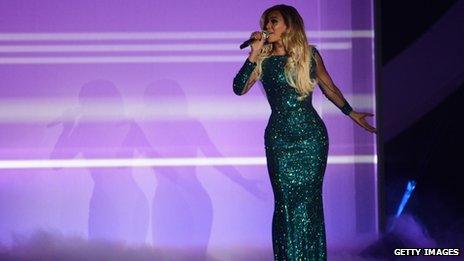 This year's Brit Awards was the most tweeted about UK TV show ever.
There were more than four million tweets about the ceremony at London's O2 Arena, which saw Arctic Monkeys and One Direction both pick up two awards.
The former X Factor group won the global success prize and British video, which was voted for by fans on Twitter during the show, for Best Song Ever.
It was the first time a prize was voted for live during the event and attracted two million tweets.
Other winners on the night included David Bowie who picked up best male, Daft Punk for international group and Lorde who won international female solo artist.
The New Zealand singer also performed Royals in a collaboration with Disclosure.
The ceremony has been accused of being boring and predictable in recent years and this year Bruno Mars, Katy Perry and Pharrell Williams were also among the performers on the night.
Beyonce's unbilled performance of XO was the most tweeted about appearance of the night.
Arctic Monkeys are the first act ever to win both best British band and album of the year three times. They also performed for the first time at the Brits.
During his best album acceptance speech for AM, singer Alex Turner said: "Yeah, that rock and roll, it seems like its fading away sometimes, but it will never die.
"And there's nothing you can do about it."
He then said: "You can invoice me for the microphone if you need to," before dropping the microphone on the stage.
The stunt saw his name top-trending in the UK.
The X Factor was the previously most tweeted about TV show in the UK.
The Brits ceremony also set a new tweets per minute record for a UK TV show, with 78,000 interactions per minute.