Atlanta resident Bieber protest claimed as 'radio hoax'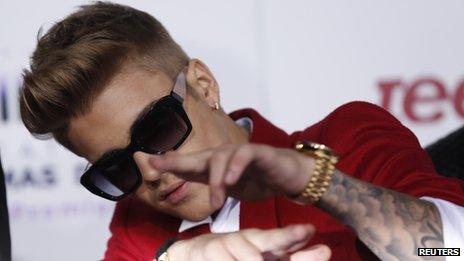 An American radio show has claimed a community protest against Justin Bieber moving to Georgia neighbourhood was a hoax.
The Regular Guys from Rock 100.5 prank followed reports the singer is planning to move to Buckhead in Atlanta.
Organisations, including CNN and the BBC, ran the story.
Several outlets interviewed a retired 'resident' named Harold White.
It was claimed White helped organise the campaign but the Atlanta show say he was played by Regular Guys host Tim Andrews.
A Facebook page representing the fake "Buckhead Neighborhood Coalition" was set up as part of the prank.
The description read: "Justin Bieber's relocation to Atlanta can be nothing but bad for our children, as well as the community. Some can't even let their children play in the driveway without fear; he has raced vehicles under the influence, before. What's to say he won't do it again?"
When asked if the campaign was excessive because there has been no confirmation that Bieber is buying the house, the man claiming to be the resident said: "This is sort of a warning to say 'We don't need you here we don't want yellow Lamborghinis driving around our roads at 90 miles an hour'."
Bieber has had several encounters with the law enforcement in recent months.
The 19-year-old also faces charges of being driving under the influence, resisting arrest and driving on an expired license after being stopped by police in Miami Beach, Florida, last month.
The Los Angeles County district attorney is considering whether to charge Bieber with felony vandalism in the egging of a neighbour's house in January.
During the BBC interview the man claiming to be White added: "It certainly doesn't seem like a 19-year-old boy is going to change his ways, especially one with a lot of money and a lot of disrespect for any kind of convention."