Emerging British musicians get funding for SXSW festival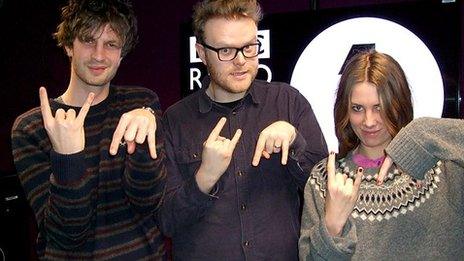 A group of British musicians have been given funding to play at South By South West festival (SXSW) in Austin, Texas.
The PRS for Music Foundation has backed 19 artists, including duo Wolf Alice and Woman's Hour, through the International Showcase Fund.
Acts applied for funding online before being selected by panel of music industry experts.
SXSW, which runs from 11-16 March, is known as one of the world's best platforms for rising talent.
As well as giving established British acts like Coldplay the chance to showcase new material, SXSW gives artists like Kins, Anoushka and Bo Ningen, who have also been backed by PRS, the chance to break through on an international level.
Florence and the Machine had her debut American show at the festival, while Ed Sheeran and Michael Kiwanuka both performed there when they were still relatively unknown.
Laura Whitticase, the industry and export fund manager for PRS, said it is important for UK acts to become better known overseas.
She added: "It [SXSW] gives new opportunities for artist to expand on their revenue streams.
"They often pick up labels and agents in the US and they also have the opportunity to be booked on to bigger tours in the states and in other countries around the world."
It is estimated that more than 2,000 acts from 55 countries will perform at this year's festival.
The International Showcase Fund, which works in partnership with Arts Council England, UK Trade & Investment (UKTI), British Underground and Musicians' Union, has also backed Alex Vargas, Cloud Boat, Forest Swords and Glass Animals.
The drummer from Manchester four-piece Pins, Sophie Galpin, said they applied for backing because the chance to play at the festival is "a dream for all of us" but, like many emerging acts, they couldn't afford to fund the trip on their own.
"It just costs so much money to go out there. You know flights, visas, accommodation and transport... It all adds up," she said.
"It's [SXSW] a bit of a milestone. We get to showcase our strengths to all these different people in the industry and further our career if possible."
The likes of Petite Noir, Psychemagik, Slaves and Fat White Family, who won the Radar Award at this year's NME Awards, have also been given backing to play at the festival.
The International Showcase Fund has also donated money to The Heatwave, The Wytches, To Kill a King, Teeth of the Sea and Sophie.