Coachella 2014: 13 of the best surprise appearances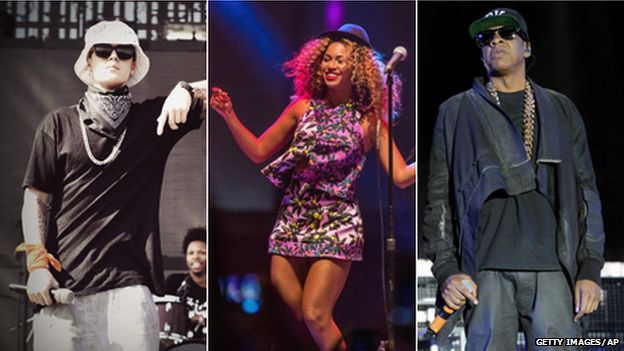 The first weekend of this year's Coachella Festival has taken place in California.
Arcade Fire, Muse and Outkast top the bill this year but it wasn't just the headliners who grabbed the attention of music fans across the three days.
From Pharrell's parade of unannounced guests to Beyonce popping up during her sister Solange's set, the first weekend of Coachella 2014 was full of surprises.
Here are some of the highlights.
Solange's set became a sister act when Beyonce made an unannounced appearance during the last song of the set in the Gobi tent.
The crowd began screaming as soon as Beyonce was spotted onstage and the grinning siblings performed a synchronised dance routine together to Losing You before hugging at the end of the as the track.
Janelle Monae, Future and Sleepy Brown with Outkast
After weeks of anticipation over a much-hyped reunion tour, Outkast began their 40+ festival tour as the headliners of the first night of the festival.
The set, which also included rapper Future and singer Sleepy Brown appearing on stage with the Hey Ya duo, saw Janelle Monae appear with Andre 300 and Big Boi for a performance of Tightrope.
The Happy singer's career-spanning set on Saturday included no less than six of the best special guests.
First up was Nelly, who took the crowed back to 2002 with Hot in Herre before Busta Rhymes appeared for Pass the Courvoisier, Part II.
He was quickly followed by Tyler, The Creator who helped perform Lapdance, taken from N*E*R*D's 2001 debut album In Search of....
Later in the set came Snoop Dogg for Drop It Like It's Hot and Beautiful, before Diplo performed Aerosol Can - a Major Lazer and Pharrell collaboration.
The final guest was Gwen Stefani who filled in the gaps on Hollaback Girl.
Perhaps the most headline grabbing appearance of the weekend came when Jay Z took to the stage with Nas.
Even though they ended a long-running feud in 2005, it was still totally unexpected for the 99 Problems rapper to show up to deliver Dead Presidents II alongside Nas.
Justin Bieber with Chance The Rapper
Sunday saw the popstar taking to the stage in Indio to trade verses with Chance The Rapper on their single Confident.
Bieber hinted at appearance on Twitter writing "what am i up to today?? ;)" and followed the performance by posting "that was fun".
The weekend's final headliners were joined by Blondie singer Debbie Harry.
She performed Blondie's 1978 hit Heart of Glass, sharing vocals with Regine Chassagne while Win Butler played piano.
As the track segued into Sprawl II (Mountains Beyond Mountains), the 68-year-old provided backing vocals.
Related Internet Links
The BBC is not responsible for the content of external sites.