Live Lounge: Paolo Nutini says 'music wasn't main focus'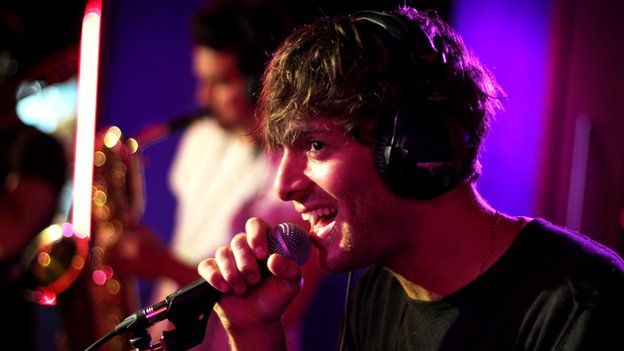 Paolo Nutini has said music wasn't his main concern while writing his third album Caustic Love ahead of his performance in Radio 1's Live Lounge.
He told Fearne Cotton: "I was doing other things and I put the music as the relief at the end of the day rather than the main focus."
The singer played his top 20 single Scream (Funk My Life Up) as well as a cover of Recover by Chvrches during the session.
Caustic Love was released on 14 April.
According to the Official Charts Company, the record is set to become the fastest-selling album of 2014 and is number one in the midweek album chart.
The album is the follow-up to 2009's Sunny Side Up, which sold nearly two million copies in the UK and went to number one in the Official Album Chart.
The singer-songwriter's debut These Streets came out in 2006.
Talking about how Caustic Love came together, the Paisley singer joked that he "didn't turn his phone on" while he was writing it.
"I was writing every day but I was filling my time up with other stuff," he said.
"It just kind of built up over time, we write a tonne of songs and then the album just kind of formed itself."
He also explained why he wanted Scream, which entered the Official Singles Chart at number 12, to be Caustic Love's lead single.
"I've wanted to come back with something that wasn't taking itself too seriously," he said.
"I think the album's got a different tone to it, it's certainly not as bubbly and bright. I thought that [Scream] was a good way to get the ball rolling."
Nutini, 27, recently suggested that he wouldn't wait as long before releasing album number four.
"Ideally, I'd like another album out within a year," he said ahead of a headline set for the Teenage Cancer Trust at the Royal Albert Hall in March.
The singer, from Paisley, was among the first acts to be named on the bill for Radio 1's Big Weekend.
Other acts confirmed for the station's flagship annual event, which takes place at Glasgow Green between 23 and 25 May, include Rita Ora, The 1975 and Pharrell Williams.
Paolo Nutini has also been named on the line-up for this year's T in the Park as well as Glastonbury and V Festival.