Guns N' Roses promise new album 'sooner' than 14 years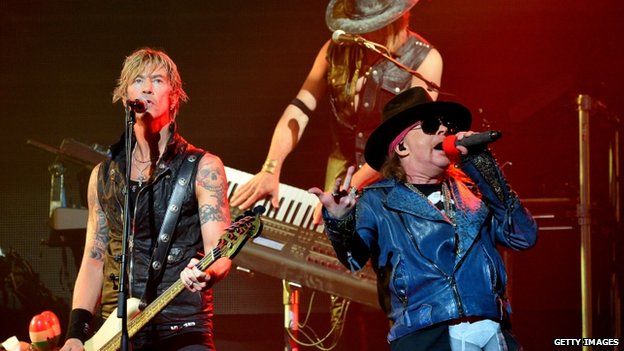 Guns N' Roses fans may not have to wait another 14 years between albums.
The rock band's guitarist Richard Fortus said on Wednesday night at the Revolver Golden Gods awards in LA that the group was "working on stuff".
"Hopefully very soon we're going to have new stuff out," he said. "Well, in the next year."
Guns N' Roses released Chinese Democracy in 2008 after a 14-year gap from their previous studio album, The Spaghetti Incident?
This time, band members say they're circulating ideas for songs remotely and during a recent South American tour.
"Everybody in the band is like writers," said guitarist DJ Ashba. "We all have our home studios.
"We all record ideas and pass them around. It's that type of vibe.
Fortus added: "We're going to be in [Las] Vegas all together, so hopefully during that time we're going to be able to get into the room and start laying down some more stuff."
The band was performing at the awards ceremony with lead singer Axl Rose, the only remaining original member of the group.
Original member Duff McKagan, who played at the awards, is acting as a temporary tour replacement for Tommy Stinson.
Others at the show said they were holding out hope for a full reunion between Rose and former guitarist Slash.
"That of course was a gigantic mess," said Alice Cooper. "It was pretty chaotic.
"I still think they're going to get together again. I still think they're going to get back together at some point."
Others in attendance at the awards show included Billy Gibbons from ZZ Top, Andrew Dice Clay, Dave Navarro, his former wife Carmen Electra, and Linda Perry, who said she was reuniting her former group 4 Non Blondes for a one-off show next month.
Alice Cooper, 66, was presenting an award to Joan Jett at the show.
He is featured in a new documentary that was shown at the Tribeca Film Festival, called Super Duper Alice Cooper.
"It's kind of like Jekyll and Hyde," said Cooper. "That was the whole idea behind it was me and then the character Alice Cooper, and how we coexist behind each other.
"And then how it was born, how the whole thing worked, and then a lot of tragedy - when it came to the alcohol and everything - but in the end I'm like Rocky. I win at the end."