Live Lounge: Nick Mulvey 'flipped out' about Glastonbury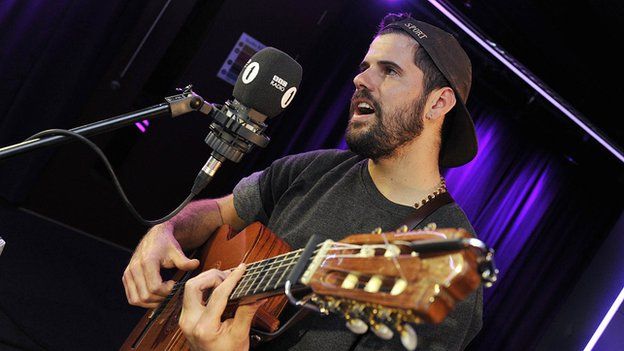 Nick Mulvey said he "absolutely flipped out" when he was booked to play the pyramid stage at this year's Glastonbury festival.
Ahead of a session in Radio 1's Live Lounge, the singer told Fearne Cotton: "That is always really something that has been an aspiration and here it is."
The session saw him playing his single Meet Me There as well as a Taylor Swift cover.
Nick Mulvey's debut album, First Mind, was released on 12 May.
Talking about the release he said: "It was sort of actually really exciting. A bit nerve racking but I've been looking forward to it for a long time so it felt great."
The first single taken form the album, Cucurucu, went to number 26 in the UK singles chart when it was released in March.
Nick Mulvey performed on a smaller stage called The Park at Glastonbury last year.
He added that he's put a band together for his festival shows this summer, which also include Green Man and Bestival.
Mulvey released his first EP The Trellis in November 2012, and his second Fever to the Form in July 2013.
The English singer has supported Laura Marling and Lianne La Havas in the past and will be the opening act for London Grammar at shows later this year.
He was also on the BBC's Sound of 2014 poll longlist.
During an interview with Fearne Cotton ahead of his live session, Mulvey also described how he learned to play guitar in Havana, Cuba.
He said: "A friend actually had said when he was on holiday there he had been at a music school for about an hour.
"He said for the whole hour he was thinking of me. And when he got home he came to find me."
He said that moving there to learn about music was "sort of a 'Why not?' decision".
"I picked up a lot of music there and I was there for quite a while. It was a really rich experience and gave me a broader view of a lot of music and that's done me well," he added.