Alfie Allen denies Game of Thrones incest cameo claims
By Amelia Butterly
Newsbeat reporter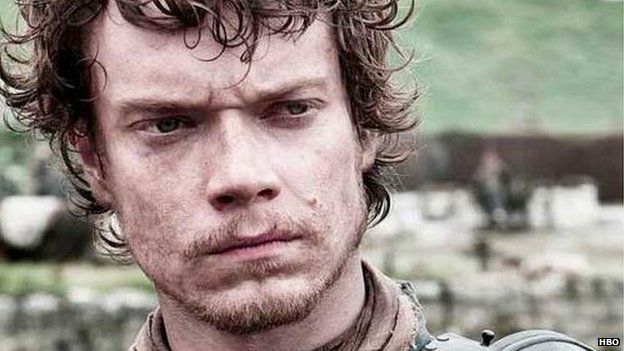 The 27-year-old plays Theon Greyjoy in the HBO fantasy drama.
"The only thing I'm going to say on that is that it's not true," he said.
Lily Allen has said previously that she was invited to take on the role of Theon's sister Yara, but was too "uncomfortable" at the thought of her real-life brother caressing her.
"I would have had to go on a horse and he would have touched me up," Lily Allen told a Reddit AMA session.
"Once they told me what was entailed, I said, 'No thanks.'
"I would be open to doing a musical cameo like Sigur Ros though."
The incestuous scene, which eventually ended up being played by actress Gemma Whelan, is from the second episode of season two, called The Night Lands.
The pair are seen on horseback and Theon doesn't realise they're related until later on in the episode.
"And she's fantastic. And that's the only thing I'm going to say about that."
In the interview, Alfie also described how the show's producers, David Benioff and DB Weiss, tricked him into thinking his character was killed off at the end of series two.
"They sent me a fake season finale script where Bran killed me at Winterfell, stabbing me in the heart, and it was hilarious," he said.
"I didn't even know, because I hadn't read that far ahead in the books.
"I actually loved [that] ending. I thought it was a good death."
The series is now in its fourth season and airs on Sky Atlantic in the UK.
Related Internet Links
The BBC is not responsible for the content of external sites.