McBusted's Tom Fletcher named dad of the Year 2014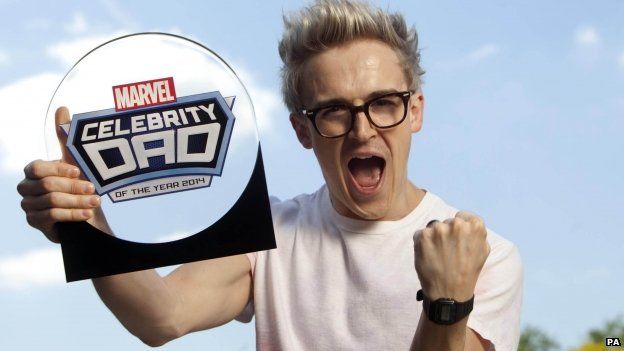 McBusted star Tom Fletcher has beaten Simon Cowell to the title of celebrity dad of the year.
The X Factor boss, whose partner Lauren Silverman gave birth to Eric earlier this year, was among the shortlisted stars, but lost out to the 28-year-old.
Fletcher, who became a father to son Buzz Michelangelo in March, won a public vote for the title.
The musician is said to have won the nation's heart thanks to his doting posts about Buzz on social media.
He documented every day of his wife Giovanna's pregnancy while serenading her bump in a touching video.
He takes the title from Olympic medallist Mo Farah.
Fletcher said: "It feels amazing being crowned Marvel's celebrity dad of the year.
"I feel very honoured, especially considering the competition I was up against. I apologise - sorry, Simon Cowell and Mo Farah.
"Buzz has completely changed my life. Even before he was born, when we found out we were having a baby, it just completely turns your world upside down, really.
"I went on tour for three weeks after he was born and luckily he came a little bit early as well so it meant I got an extra week with him before I went away.
"But it's been a learning experience so far.
"It's all worked out amazingly - they came on tour with me for a few weeks.
"I did a lot of travelling back and forth to see him and do my dad duties and change some nappies.
"I think it requires a lot of superhero qualities. You have to be patient and quite strong, because I think it's really important to be there for mum in the first few months."