Robert Downey Jr 'grateful' for son's cocaine arrest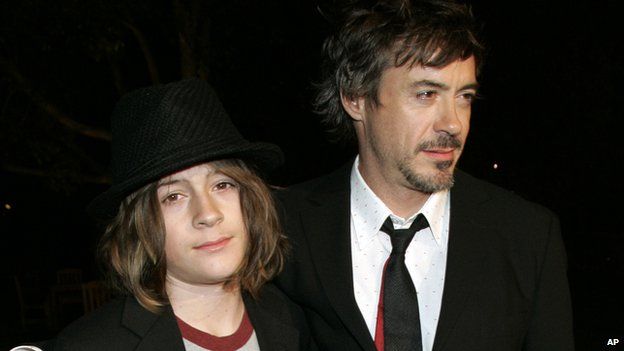 Robert Downey Jr has thanked police for arresting his 20-year-old son on suspicion of cocaine possession.
The US actor has said the family was determined to make sure that he will get the help he needs.
Police took Indio Falconer Downey into custody on Sunday, after a car he was a passenger in was pulled over in West Hollywood, authorities said.
"Unfortunately, there's a genetic component to addiction and Indio has likely inherited it," Downey Jr said.
The actor, who has appeared in Marvel's Iron Man trilogy and The Avengers, had a number of high profile drug arrests himself in the late 1990s, which resulted in him going to prison and rehab and losing out on acting roles.
Since then he has got his career back on track. In 2013 he was named Hollywood's highest earning actor by Forbes, taking home an estimated $75 million (£50m).
"We're grateful to the Sheriff's Department for their intervention and believe Indio can be another recovery success story instead of a cautionary tale," said Downey Jr in a statement.
Indio Downey was booked on suspicion of possession of a controlled substance, believed to be cocaine, and possession of drug paraphernalia, sheriff's Sgt Dave Valentine said.
A court date has been set for 29 August and Indio Downey was released after posting $10,250 (£5990) bail.
Two other people were travelling in the car with Indio Downey, but only he was arrested.
He has previously featured in the movie Kiss Kiss Bang Bang along with his father.