Community sitcom saved by Yahoo Screen for series six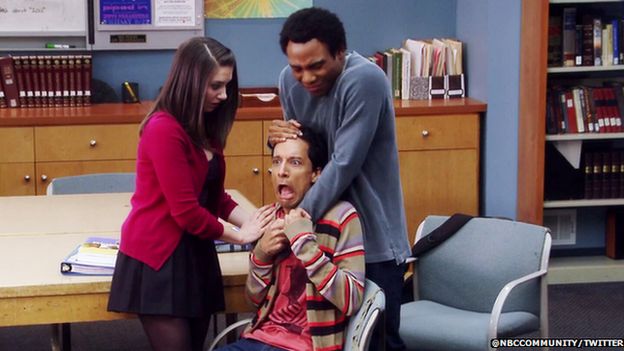 The US sitcom Community has been saved by Yahoo after NBC announced earlier this year plans to cancel it after five series.
Yahoo and Sony Pictures Television have now said the show's creator, Dan Harmon, will be an executive producer for 13 new episodes.
Yahoo said passionate Community fans have helped to keep the show alive.
Cast members including Joel McHale, Gillian Jacobs, Danny Pudi and Ken Jeong have all signed on to return.
In a statement referring to Mark Twain's famous quotation, McHale says reports of the show's cancellation were "greatly exaggerated."
Community follows a group of adult students at Greendale Community College and has starred Chevy Chase and Donald Glover.
It has been nominated for a number of awards and has won an Emmy for outstanding animation.
Since being cancelled, rumours spread about Sony looking to partner with another broadcaster with suggestions ranging from Netflix to Comedy Central.
Harmon worked on series one to three of Community, before being sacked ahead of the fourth season.
He was known to have had a feud with Chevy Chase and messages the actor left on Harmon's phone were published online.
Speaking to The Hollywood Reporter, Sony Pictures Television president of programming and production Zack Van Amburg said: "There's no way we're not making the movie now!"
"I think once we make the movie, let's look up and decide how much more Community the world wants.
"We promised six seasons and a movie, how much more do you want?!"
Yahoo Screen is an on-demand streaming service which currently airs viral videos, current events and comedy. It also shows full-length programmes, including its original series, Burning Love.
It was launched in 2011 after Yahoo Video was rebranded. It competes with other established online video streaming services including Netflix, Amazon Prime and Hulu.
Van Amburg added: "You haven't seen a whole slew of announcements out of them but when they make announcements, they want them to be loud and to stand for something."
Related Internet Links
The BBC is not responsible for the content of external sites.