Jeremiah: My Teen Award has opened so many doors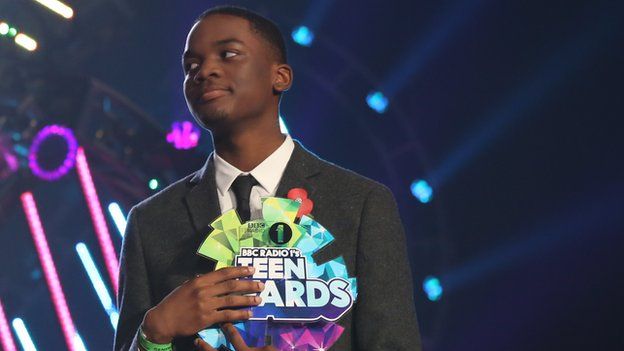 On 3 November 2013, Jeremiah Emmanuel was named a Teen Hero at Radio 1's Teen Awards.
Nine months later Newsbeat meets the 15-year-old in the Radio 1 green room.
Having appeared on Nick Grimshaw's Breakfast Show to help announce this year's Teen Awards will take place on 19 October, Jeremiah has already asked when Ben Cooper, controller of Radio 1 and 1Xtra, gets in.
"So much has happened since then," he says.
"A lot of people started listening to us a bit more and listening to the issues that we had to go through.
"The Teen Awards doesn't only recognise people but it opens doors that you wouldn't necessarily get to touch."
This year's ceremony will take place at Wembley Arena to honour some of the UK's unsung teenage heroes as well as music, online, sport and entertainment stars.
Jerimiah, who is taking some GCSE exams early, adds his year has been busy since winning.
"I've been working on One Big Community [a London-based youth violence initiative he set up], I've been working on a few different projects and had loads of GCSE exams at school so I've literally been all over the place.
"It's all about timetabling and making sure everything's on point. I'm as I was, in the house as much as I was, but busier."
However, Jerimiah does admit that his work load has become a bit much at times.
"Whenever it gets to a point where I think it gets too much I literally look at everything I'm doing and look at what is more important than other things and then I might have to come to the decision of dropping things."
He adds that he's had to stop taking part in as much sport.
"Because I wasn't doing it at a semi-pro or professional level I basically dropped that so I could focus on exams. "
Nick Grimshaw will return to host this year's ceremony.
Further details, including artists performing at the event, will be announced over the coming months.
Radio 1 listeners can nominate anyone aged 12- to 17-years-old for the awards in recognition of their bravery, strength and selflessness.
Previous listener nominations have included relatives, work colleagues, friends and carers.
This year Jeremiah will be on the panel among journalists, celebrities and Radio 1 DJs who will be choosing this year's winner.
"I'm the first young person on the panel so that's a changer," he says.
"I'm literally looking for mind-blowers, something that I can read personally and go 'Wow'.
"I believe that any one young person who is doing something great in their community needs to be recognised."
As well as the Teen Heroes, other prizes up for grabs include best British group, best British vlogger, best British actor and best British sports star which will be voted for by Radio 1 listeners.
The nominations for the 2014 Teen Heroes are open now until 21:00 BST on Sunday 17 August.
BBC Radio 1's Teen Awards will be broadcast live on Radio 1, with TV highlights on CBBC.