Sandra Bullock tops highest earning actresses list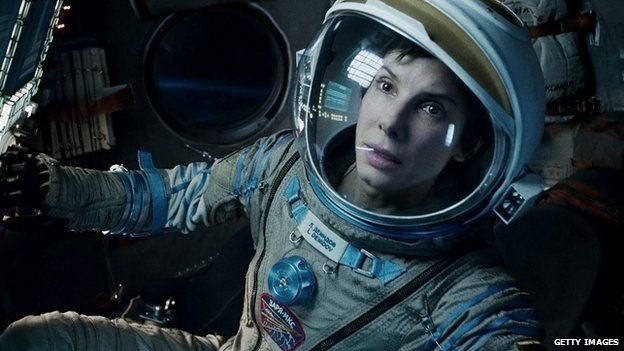 Gravity star Sandra Bullock is the highest-earning actress of 2014 taking home an estimated $51m (£30m), according to the Forbes rich list.
The Oscar-winning film brought in $716m (£425m) in global box office takings and was a hit with critics.
Jennifer Lawrence is second on the list with a reported $34m (£20m) thanks to her share in Hunger Games.
Jennifer Aniston ranks third highest earning with $31m (£18m) after her role in Horrible Bosses.
Despite Bullock's large pay packet, women are still earning less than men in Hollywood.
Forbes reports that the top 10 women on the list earned $216m (£128m) combined, which is almost half of the $419m (£249m) that the top 10 actors brought home.
Robert Downey Jr is number one on the male list with $75m (£44.5m) earnings for the second year in a row thanks to the Iron Man trilogy and Avengers films.
Marvel has made almost $4 billion (£2.3bn) on movies starring Downey Jr not including merchandise.
Gwyneth Paltrow is fourth place with $19m (£11m) due to her role in Iron Man 3 with Downey Jr and her work with Max Factor and Hugo Boss.
Last year's top earner Angelina Jolie came in fifth with $18m (£10.6m).
Forbes says that it measures the figures by talking to agents, producers and lawyers to work out how much each celebrity earned from entertainment-related work during the 12-month time period between June 2013 and June 2014.
They didn't deduct cash for taxes, agent fees or the other costs of being a celebrity.
Forbes highest-earning actresses 2014 are as follows:
1. Sandra Bullock - $51m (£31m)
2. Jennifer Lawrence - $34m (£20m)
3. Jennifer Aniston - $31m (£18m)
4. Gwyneth Paltrow - $19m (£11m)
5. Angelina Jolie - $18m (£10.6m)
6. Cameron Diaz - $18m (£10.6m)
7. Scarlett Johansson - $17m (£10m)
8. Amy Adams - $13m (£7.7m)
9. Natalie Portman - $13m (£7.7m)
10. Kristen Stewart - $12m (£7.1m)