Justin Bieber 'to agree to anger management classes'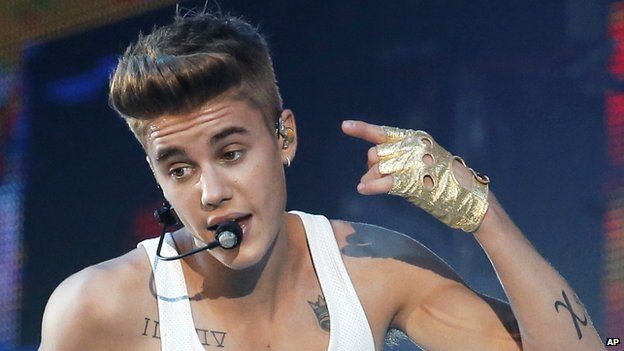 Justin Bieber is going to plead guilty to careless driving and resisting arrest and agree to take anger management classes.
The Associated Press say he'll enter the plea at a hearing on Wednesday, after his arrest in Florida in January.
Police said he was taking part in an illegal street drag race with singer Khalil Amir Sharieff.
They were arrested on 23 January in Miami Beach but neither was charged with drag racing.
Now, the Associated Press is reporting sources close to the case say he will admit to misdemeanour careless driving.
The sources are two people directly involved in the case and they claim Bieber will also plead guilty to resisting arrest without violence charges, rather than the original driving under the influence charge.
They say the singer will take anger management classes, make a $50,000 (£30,000) donation to charity and pay court-ordered fines.
The plea agreement does not ask him to spend time in jail.
The two people referred to by The Associated Press insisted on anonymity because they were not allowed to comment publicly before the court hearing later today.
When police arrested the singer, they carried out alcohol breath tests which showed he was below the 0.02 limit for underage drivers.
Urine tests revealed that there was marijuana and the anti-anxiety drug Xanax in his system.
He was also charged with resisting arrest and driving on an expired license.
Last month Bieber pleaded no contest to a misdemeanour vandalism charge for throwing eggs at a neighbour's house in LA.
He agreed to pay more than $80,000 (£48,000) in damages.
The 20-year-old is also charged with assaulting a limousine driver in Toronto. His lawyers say he is not guilty.
He is being sued in Miami by a photographer who says he was attacked while taking pictures of the singer outside of a recording studio.