NFL hire first full time female official
By Laura Wignall
Newsbeat reporter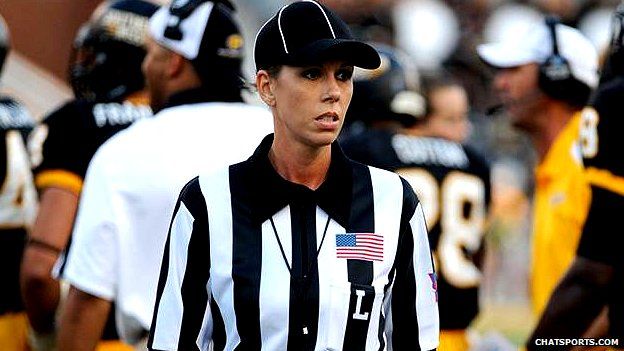 The NFL has hired its first full-time female official, Sarah Thomas, who will start this season.
The line judge was one of nine new officials the league announced as part of its 2015 team.
The pharmaceutical sales rep worked as a line judge in an NFL preseason game in 2013 and 2014.
Sarah has already made history by being the first woman to officiate a major college football game and first to officiate in a Big Ten stadium.
She has been officiating in Conference USA since 2007 and is the second woman to officiate in a regular-season NFL game.
Shannon Eastin, who is an official in the Mid-Eastern Athletic Conference, served as a line judge for the first three games of the 2012 NFL season.
Sarah told NBC News: "There's a drive in me that wants to nail it, I want to nail the perfect game."
Dean Blandino, NFL's vice president of officiating, said: "Our incoming officials have all demonstrated that they are among the best in college football.
"We are excited about having them join us."