How a jury delivers the death penalty in America
By Lindsay Brown
Newsbeat reporter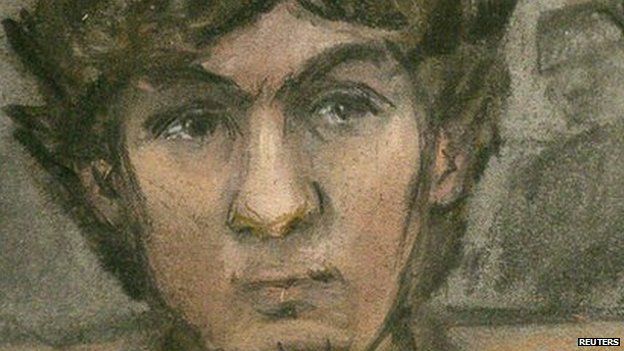 This week a jury found Dzhokhar Tsarnaev guilty of all 30 charges he faced in connection with the Boston marathon bombing but now they must decide his punishment: life in prison or the death penalty.
Three people were killed and more than 260 people injured when the bombs exploded at the finish line in April 2013.
The case has moved onto what's called the "penalty phase" which is essentially a second trial.
"The prosecution - the government - has the obligation of proving reasons for death, which are called aggravating circumstances," Rob Dunham from the Death Penalty Information Centre tells Newsbeat.
"The defence has the opportunity to present reasons for life, which are called mitigating circumstances."
While the prosecution's already presented the majority of its evidence during Tsarnaev's trial, the defence will push its reasons for sparing Dzhokhar Tsarnaev's life.
The 21-year-old's defence team will concentrate on his age, his immigrant background and the influence of his older brother Tamerlan, who was killed during a police shoot out.
"They will argue that the radicalising propaganda was on Tamerlan's computer," Rob explains.
"He was the one who bought the supplies for the bomb and Tamerlan's fingerprints were on the bomb."
The jury has to unanimously agree that aggravation outweighs mitigation to impose a death sentence.
If they don't, then Dzhokhar Tsarnaev will be sentenced to life without parole.
The state of Massachusetts abolished the death penalty in 1984 but the charges against Dzhokhar Tsarnaev were brought by the federal government, not the state.
In a recent survey following the bombing, 62% of people in Boston said they were against the death penalty.
Two-thirds of Bostonians believed that life in prison would be a suitable punishment for the bomber.
Rob says in the majority of cases brought by the federal government, few juries actually deliver the death penalty.
The decision in Dzhokhar Tsarnaev's case, Rob argues, rests on two clear arguments.
"Is the jury going to be expressing outrage for this offence and punishing Dzhokhar as if he were his older brother because there is no-one else to punish or are they able to distinguish about the degree of participation and Dzhokhar's relatively younger age and emotional vulnerability?"