'Paedophile hunter' says he's changing the way he works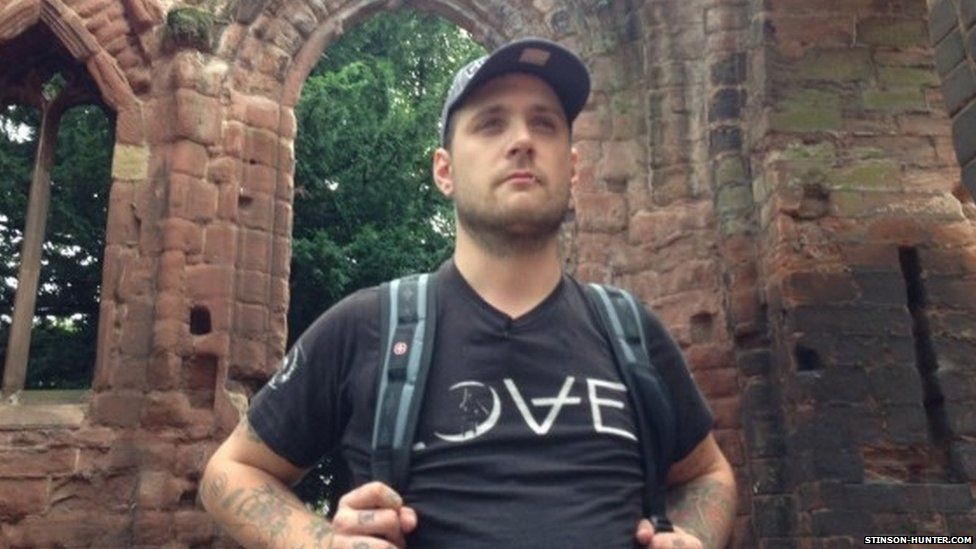 The star of the documentary The Paedophile Hunter has spoken out against some other campaigners.
He's been talking to Newsbeat after a string of alleged attacks on suspected paedophiles.
Stinson, who made his name operating stings against suspected child abusers, says he's ashamed to be called a vigilante.
He says: "I'm not. I submit evidence to the police, and the police deal with it."
"I don't do this to out people. I don't do this to get anyone locked up.
"I do this to get people talking and to get people acknowledging that right now there's a really serious issue with online sexual exploitation. That's why I do this."
Stinson starred in The Paedophile Hunter in 2014, a Channel 4 documentary following him as he posed as a child online and launched sting operations on suspected abusers.
It's been nominated for a BAFTA television award.
He's had threats made against his family, and admitted his personal life has suffered as a result of his work.
"In 2013 I was nearly killed. I've put everything into this.
"I've poured my heart and my soul and everything I am into this - into trying to build something up and to try and force change."
Stinson tells Newsbeat he now plans to scale back on his own sting operations to become "an educator" - speaking in schools and holding seminars to teach young people and parents about the dangers of meeting strangers online.
"Now, I'm in a position where I've got to think 'where do I go now'? I've been looking at it for a while, about 18 months, looking in a different direction."
"Do I need to keep doing these stings? No I don't think I do.
"The reason why I set out to them? I've achieved that.
"I need to use my profile to get into school and start educating kids."
He goes on: "I've got all eyes on me. I've got media attention."
"I need to use my profile to start educating people."
"I'm considering changing direction. Still raising awareness, but I don't need to run around with my camera. I can use that camera to film something educational."
"I think that's the way I'm moving, away from stings and towards education.
"And I can show people why I do what I do. I can show them the kind of people they'll meet online."
"I can explain why people need to be more vigilant online."
When Newsbeat asks if Stinson regretted doing stings, he says never: "I'm proud of everything I've done, I'm proud of all the people who've helped me along the way.
"I'm not going to regret it. I've opened a lot of people's eyes."