Cara Delevingne poster: Advertising watchdog says it's 'sensual not explicit'
By Emily Thomas
Newsbeat reporter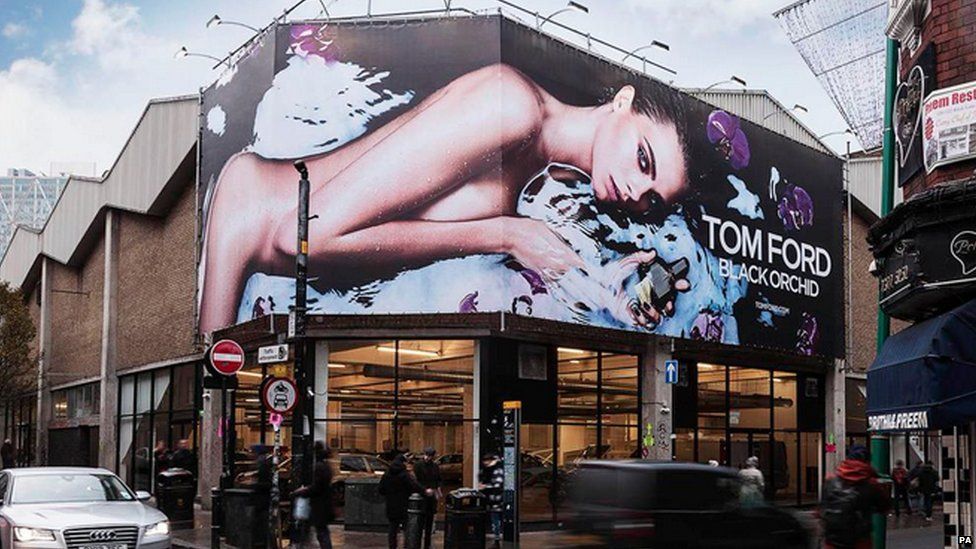 A large, naked Cara Delevingne poster isn't going anywhere, despite criticism.
The perfume ad featuring the model appeared on the corner of Brick Lane and Hanbury Street in east London.
The Advertising Standards Authority (ASA) received complaints that the poster objectified women and was on display near religious buildings.
But the advertising watchdog decided the ad wasn't sexually explicit and doesn't need to be removed.
The ASA had been asked to investigate two complaints; that the ad shouldn't be where children could see it and close to churches and mosques, and that the image was degrading and objectified women.
Tom Ford Beauty, which created the ad for its Black Orchid perfume, defended the photo.
According to the ASA it pointed out that most of Cara's body was underwater and "although her buttocks were visible, they were presented in virtual profile and not in a sexual way".
The ASA said the beauty brand believed the location of the ad was in a "hip urban neighbourhood" and "neither her pose nor her facial expression were sexually suggestive in any way" and were "classical in nature and had been depicted in art over the years".
The advertising watchdog has decided not to uphold the complaints.
It's ruled the ad didn't appear "within the immediate vicinity of a place of worship" and "the area in question was a busy, diverse and popular area of London".
It said the poster was "sensual and sexually suggestive" rather than "sexually explicit" which means it shouldn't appear within 100 metres of a school, but there wasn't one within that distance.
It added the image was "unlikely to cause serious or widespread offence" and "did not degrade or objectify women".