Election 2015: Every number one, ever, on polling day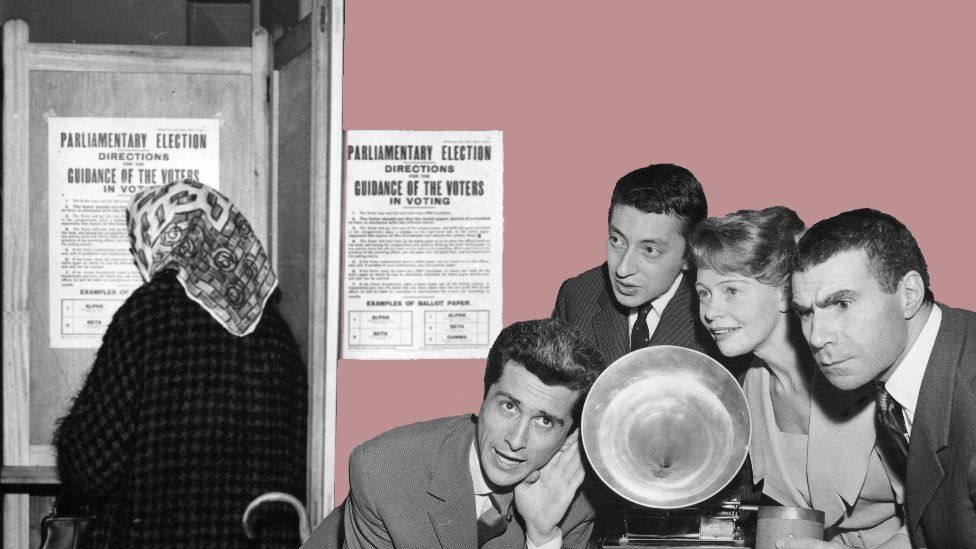 In case you hadn't noticed, there's an election on.
Which means whoever wins will probably forever remember OMI's Cheerleader (Felix Jaehn Remix) as the song that accompanied them into Downing Street.
But what about elections past? What tune did Tony Blair march back into Number 10 to in 2005?
We didn't know either. Fortunately the Official Charts Company has made a list.
So, here's every number one for every election since the chart began. And there have been some bangers.
2010 - Roll Deep, Good Times
David Cameron became PM to Good Times on 6 May 2010.
We like to imagine him dancing along to the lyrics: "No fear, good times are here, when I come round the good times appear," on his first night in Downing Street. Like Hugh Grant in Love Actually.
2005 - Tony Christie featuring Peter Kay, Is This The Way To Amarillo
5 May saw Tony Blair's third election victory, so it's only fitting there was a re-release topping the charts.
Tony Christie's hit was originally released in 1971. And there were probably at least that many remakes and parody versions.
Tony Blair's second election victory came in June 2001. Clearly, he was still the British public's Angel, their friend when they're in need.
At this stage, it was all one big party while New Labour were still young, before Gordon Brown had their back and it was all done.
1997 - Michael Jackson, Blood On The Dancefloor
New Labour's first election victory on 1 May 1997 came to the tune of Jacko's last UK number one. Kind of fitting he's dressed head to toe in red in the video...
1992 - Shakespears Sister, Stay
After the dramatic ousting of then PM Margaret Thatcher in 1990, the Conservative PM John Major was clearly hoping the British public would "Stay with me". And they did, voting him back into power in early April 1992.
1987 - Whitney Houston, I Wanna Dance With Somebody
An absolute belter welcomed the Iron Lady back into Downing Street for her third term in June 1987. Not much more to say about this one!
1983 - The Police, Every Breath You Take
Britain barely had time to catch its breath as 9 June 1983 saw Margaret Thatcher win a second term in power to Every Breath You Take.
1979 - Art Garfunkel, Bright Eyes
Margaret Thatcher came to power on 3 May 1979, to the the wistful melody of Bright Eyes, also known as that song from Watership Down. Because nothing sells records like dying cartoon rabbits.
It is actually a great song, though. Just to clarify.
1974 - John Denver, Annie's Song
Labour's Harold Wilson survived a snap election in October 1974, at the same time as John Denver's soppy love ballad Annie's Song. Aaw. Clearly the British public still loved him, too.
1974 - Suzi Quatro, Devil Gate Drive
February saw the first election of 1974, in which Harold Wilson's Labour party won more seats than the Conservatives, but not enough to get a majority. They couldn't form a coalition, so another election was called in August.
And the tune to accompany this rocky election victory was equally chaotic, the punk rock stylings of Suzi Quatro's Devil Gate Drive.
We couldn't find an official version of the song to embed, but go check it out on a video service of your choice. It's really, really good.
1970 - Mungo Jerry, In The Summertime
On 18 June 1970, Edward Heath came to power to this absolute belter. What a summer classic. In fact, just as we were typing this in Newsbeat towers, the sun came out. It's a sign, we tell you. Play it. Play now.
This video also gets a special mention for its epic 1970s facial hair.
1966 - Walker Brothers, The Sun Ain't Gonna Shine Anymore
March 1966 saw Harold Wilson enter Downing Street to this epic, downbeat ballad. Wilson had won the 1964 election with a tiny majority, but gambled on another election in 1966 and got a much bigger majority. So clearly the sun still had a bit of shining to do...
Harold Wilson's first election victory came on 15 October 1964, to this absolute classic from Roy Orbison. Worth watching the video just for his cat purr at the 1.10 mark. You're welcome.
1959 - Craig Douglas, Only Sixteen
"She was only sixteen, only sixteen, and I loved her so," sang Craig Douglas in 1959. Well Conservative Harold MacMillan was Only 62 when he won the 8 October election, when this song was number one. You know how back in the day people used to write songs that would seem slightly inappropriate today? Yeah, that.
1955 - Tony Bennett, Stranger In Paradise
26 May 1955, Sir Antony Eden comes to power, accompanied by this classy number from Tony Bennett.
What a way to end our poptastic election countdown. Suave and sophisticated, just like the man himself, I mean, just look at him.
He probably owned a silk smoking jacket. And he was an Earl. #Mancrush.