Disabled live music fans still being told 'you're a fire hazard'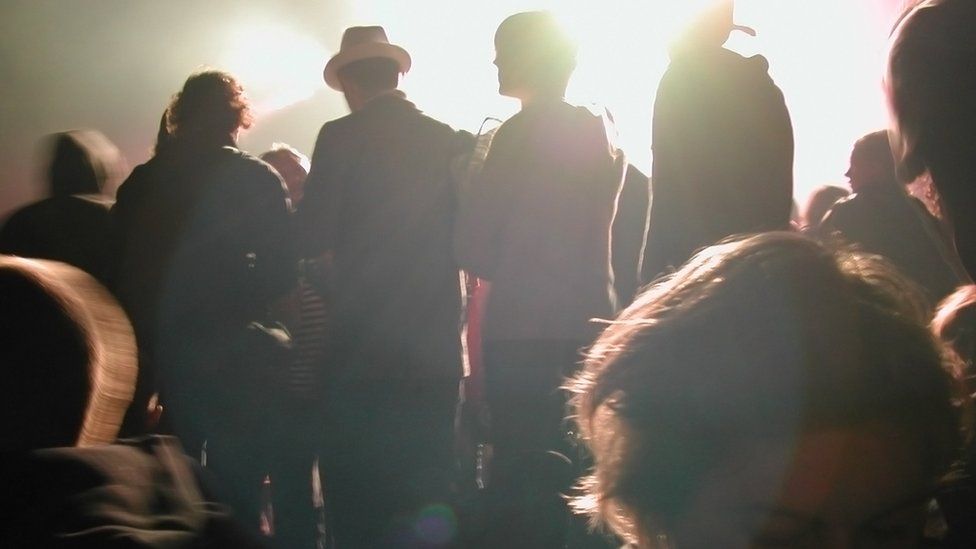 Festivals and music venues are getting better at attracting deaf and disabled fans, but the old enemies remain. Mud, steps... and idiots.
The charity Attitude is Everything says almost 114,000 "accessible" tickets were sold in 2014, up 70% on 2013.
Nineteen-year-old Katie Pennick - who uses a wheelchair - agrees venues are making changes to help her see bands.
"When it works, it does work... but often I just get shunted by people working in venues."
The law says people running gigs must make "reasonable adjustments" to ensure that everyone can enjoy the acts.
The Equality Act 2010 applies to every event - from Glastonbury, right down to a band playing your local pub - but as Katie's found, some places still don't get it.
"I've always been into music. It's so good to see your favourite acts live. Of course, being a wheelchair user it can be... interesting. Sometimes it can be quite difficult."
Katie occasionally has to navigate steps or uneven ground. "I've even been to venues in basements," she says.
While she says she's "quite flexible and innovative" about finding ways to deal with these physical barriers, the attitudes of some staff are harder to overcome.
Arriving at gigs she's heard some "bizarre" excuses why she shouldn't be allowed in.
"They say: 'No! This is impossible! You're a fire hazard!' I say: 'I'm pretty sure I'm not a fire hazard. It's your building.'
"Just having staff on hand to help out, and the staff maintaining a really positive, helpful, friendly attitude, that's a big thing."
Katie has been going to see bands since she was 16 - and attended Latitude last summer - but says that being at wheelchair-height amongst other concert-goers is no fun.
"It can be quite overwhelming to be low down in a big crowd, and quite claustrophobic."
Many venues have raised platforms for those with mobility problems, but Katie complains that sometimes these are "segregated" areas at the far back of the hall.
She says that more thoughtful gig organisers put these facilities close to the stage. "It's better to be at the front. It's also probably the best view in the house."
Even venues that have thought of step-free access, disabled toilets, trained staff, hearing loops and audio description can still overlook an important part of the gig experience, getting a drink.
Having a lowered section of the bar that Katie can actually see over from her chair would be helpful.
"The venue thinks: 'Ok, we can get them in the building, to the stage, seeing the act.' But then they don't think you want a drink?"
Attitude is Everything has set up a scheme involving more than 100 festivals, arenas and clubs - asking them to go beyond the minimum that the law requires them to do for music lovers with disabilities.
But as much as the big festivals can do to open special paths for wheelchairs or provide golf buggies, there's no way to beat the British summer weather.
"Mud's a big problem, but it's all part of the fun I suppose," says Katie.
"At festivals people are just brilliant, and are willing to help out - even if that means dragging me through the mud. I joke with friends that I should forget the wheelchair and go in a wheelbarrow."