What the Queen's Speech means for young people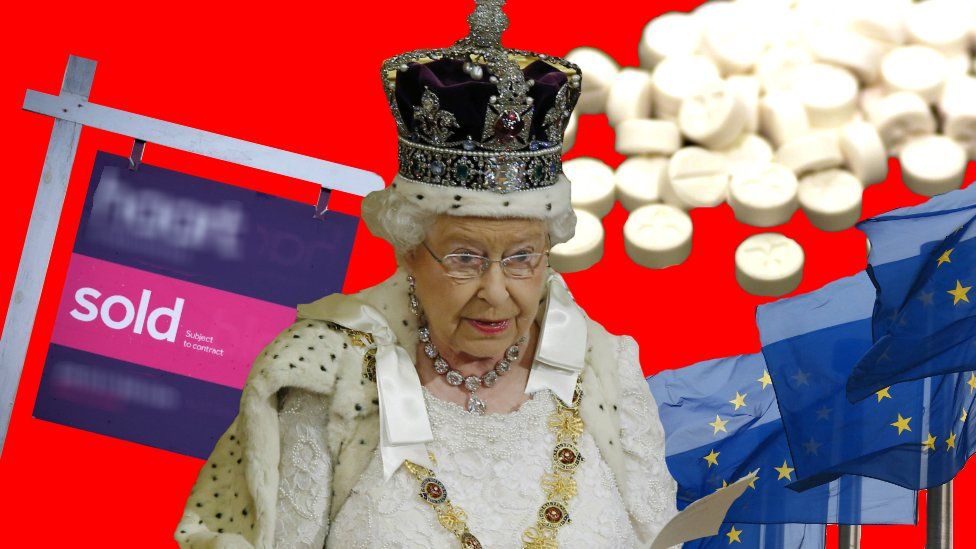 It's not a Colin Firth sequel.
This Queen's Speech is written by politicians and is read out by Her Majesty at the beginning of a new parliament, outlining the government's plans for the next year.
It's packed with policies.
Some could affect the country for years to come. Some less so.
Here are the policies most likely to have an impact on you:
The new legislation will "set out to ban the new generation of psychoactive drugs" - substances which affect the mind or mental processes, like your mood or the way you perceive something.
According to the Home Office, the new bill will "protect hard-working citizens from the risks posed by untested, unknown and potentially harmful drugs".
It's a big change as it will stop new legal highs from coming to market to replace old ones as they are banned. But whilst the law will make it a criminal offence to produce, supply, offer to supply, possess, import or export psychoactive substances (they've been thorough), possessing them for personal use will still be legal.
Coffee, alcohol and tobacco will still be legal.
No income tax for people on minimum wage
New laws mean people who work 30 hours a week on the minimum wage won't pay any income tax.
There will also be no rises in income tax rates, value-added tax or national insurance for the next five years.
You'll also get 30 hours free childcare every week for 38 weeks a year if you're working 30 hours a week and have a three or four-year-old.
Monitoring who you tweet and text
The Queen said new legislation will modernise the law on communications data, the so-called "Snooper's Charter" as critics call it. The government says it will help track terrorists online, though critics say any activists who find themselves out of favour with the government (such as environmental groups) could come under scrutiny.
It's not clear exactly what this new law will involve at the moment, but it is thought that internet service providers and mobile operators will have to keep more data about what customers are doing, including who they text, tweet and instant message - as well as the games they play. So whilst your Clash of Clans habit might be secret from your boss, the government could be watching.
And whilst we're on the topic of communication, measures will also come into force to tackle broadcasters of extremist material. The government wants to strengthen Ofcom, the communications watchdog, so that it can take action against channels that transmit extremist content.
Benefits cut for 18-21-year-olds
There will be changes to some automatic benefits for 18-21 year-olds, who will see Jobseeker's Allowance replaced with a Youth Allowance.
This only lasts six months - after that you will have to take an apprenticeship, traineeship or do 'community work' to get your benefits. The Queen referred to it as "requiring young people to earn or learn".
The government will also lower the cap on benefits a household can claim from £26,000 to £23,000, whilst freezing most working-age welfare payments, including tax credits and child benefit.
Three million new apprenticeships
Another aspect of the Full Employment and Welfare Benefits Bill is the promise to add three million new apprenticeships.
To help make this happen, young people will be offered support to gain skills and experience. The government says it wants Britain to have the highest employment rate among the world's most powerful economies.
The Queen announced that: "My government will renegotiate the United Kingdom's relationship with the European Union and pursue reform of the European Union for the benefit of all Member States.
"Alongside this, early legislation will be introduced to provide for an in-out referendum on membership of the European Union before the end of 2017."
David Cameron had already promised to give the country a straight yes/no choice over continued membership of the EU. It's likely most EU citizens living in the UK won't get a vote. This has been welcomed by Eurosceptics, who say it would have meant up to 1.5 million migrants being able to decide Britain's future.
Sixteen and 17-year-olds won't be able to vote either, a move which has annoyed some campaigners who argue that since they can get married, join the military and pay taxes, their views should be heard.
British citizens who have lived abroad for more than 15 years won't be able to vote either.
Devolution - and more protection for England
The government is planning to change rules in the House of Commons so that issues which affect England (or England and Wales) specifically will need a majority of MPs from those countries to vote in favour for it to pass. The rule will stop Scottish MPs from having undue influence on English and Welsh issues.
Scotland shouldn't feel too bad though, according to David Cameron. He said the Scottish Parliament is set to be "the most powerful devolved government in the world".
It'll get more financial control - being responsible for raising about 40% of Scotland's taxes, and getting a share of VAT.
Oh, and English cities will get more powers too. The government is hoping that'll mean they can encourage growth and compete better with each other to create new opportunities, particularly in the north.
More places to live - if you can afford to buy
The government wants to extend the Right to Buy scheme, which lets people buy their housing association homes at a big discount of up to around £80,000 outside London and £104,000 in the capital.
It's hoped the sale of one house will allow housing associations to build another. Councils will also have to sell of their most valuable homes if they become vacant.
There are also plans to deliver 200,000 new starter homes, for sale at a 20% discount to under 40s.